Designing and buying a new kitchen can often be a daunting task and one you may not wish to show your lack of knowledge when sat in a kitchen showroom for your chosen kitchen brand.
Often people don't like to look uninformed for fear of being taken advantage of so its nice to see kitchen appliance band Miele offer the chance to learn more about kitchen appliances in a number of different formats.
Miele are one of the few brands that offer such consumer interaction and it surprises us at Kitchens-Kitchens why others haven't followed suit?
The main events follow the formats below:
Taste for Design
Plan the ultimate kitchen with our taste for design appliance course. With this exclusive course you'll get to know the fantastic Miele appliances on offer and discover the kitchen you've always dreamed of.
Appliance Masterclass
Master your Miele appliance with our Appliance Masterclass. With courses that cater for all skill levels, become the master of your kitchen and learn to get the absolute best out of your Miele appliances.
Signature Sessions
From a passion for patisserie to authentic Indian, perfect your passion for cooking with our signature sessions. There is also the opportunity to join our chefs table with exclusive chefs Martyn Meid or Douglas McMaster for an hour long course on using your Miele oven to perfection.
To lean more and book these events visit:
www.shop.miele.co.uk/events/
About Miele
Miele has been an independent family-owned company since its establishment in 1899 and is equally committed to its owners, employees, customers, suppliers, the environment and society.
The company focus is on manufacturing household appliances for the kitchen, the laundry room and for floorcare, as well as appliances for use in commercial operations and medical facilities ("Miele Professional"). The strategic vision is to become the most favoured brand of the industry in all relevant markets.
Miele offers products to its customers that set the standards for durability, performance, ease of use, energy efficiency, design and service. This corresponds to the guiding principle "Immer besser" which the founders Carl Miele (left) and Reinhard Zinkann printed on their first machines – and which characterises Miele to this day.
The company focuses exclusively on the Miele brand and its consistent positioning in the premium segment. Miele stands for long-term thinking and planning, continuity of values and goals, good relationships with customers and suppliers, as well as an employee-oriented corporate and leadership culture.
During the business year 2015/2016, which ended on 30 June 2016, the company achieved a sales volume of €3.71 billion. This corresponds to an increase of €224 million or 6.4 per cent. In its home market of Germany, the company grew to €1.1 billion (plus 6.9 per cent).
Outside of Germany the sales growth was 6.3 per cent. The Miele group employs 18,370 people worldwide, 10,326 of them in Germany (as of 30 June 2016).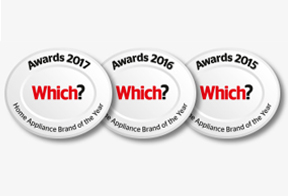 Which? Best Home Appliances Brand 2017
Miele are proud to be awarded with the Which? Best Home Appliances Brand 2017. We pride ourselves in being 'Immer Besser' (Forever Better), this is why we continue to make high quality sustainable products which are tested to last.