InSinkErator® has extended their metallic portfolio with the introduction of the brand new, lustrous, Rose Gold, J Shape 3N1 steaming hot water tap.
The Rose Gold finish of the J Shape 3N1 adds a soft pink hue to the kitchen that works equally well in both modern and traditional kitchen settings. Warm metallic tones continue to be popular in the home, with kitchen accessories and decorative items widely sought after by consumers.
The top-of-the-range, Rose Gold, J Shape 3N1 has a premium finish, in a contemporary curved design, with a solid, high quality, low lead brass composition, adding extended reliability. The Rose Gold 3N1 extends the recently launched, exclusive Showroom Collection1, boosting the collection to five 3N1 steaming hot water taps.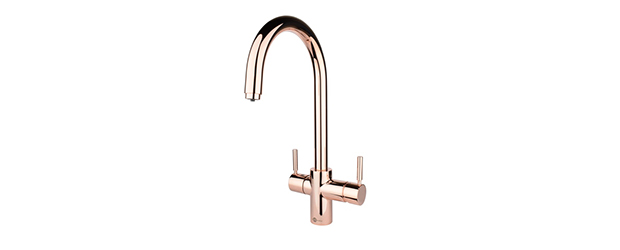 The 3N1 from InSinkErator® completely eliminates the time and energy lost waiting for the kettle to boil, while the versatility to switch to hot and cold water within the same fixture contributes to countless other tasks and saves worktop space. Instantly dispensing filtered, steaming hot water up to 98°C safely, alongside regular hot and cold options.
Denise Iordache, Marketing Manager, Europe and Russia, InSinkErator® says: "Not only do we aim to ensure premium quality and functionality are a top priority, we also want to be at the forefront with stylish and on-trend product introductions. The Rose Gold, J Shape, 3N1 steaming hot water tap, not only alleviates a cluttered worktop space, it delivers steaming hot water with avant-garde Italian style"
Key features and benefits of the InSinkErator® Rose Gold, 3N1, J Shape, steaming hot water tap:
An elegant one-piece curved tap, designed and manufactured in Italy to the highest quality, with the reliability and reassurance that comes with a world class brand
Dispenses filtered steaming hot water up to 98°C, as well as regular hot and cold options
Self-closing, easy to grip steaming hot water handle with push-lever safety locking mechanism
Comes with a compact 2.5 litre NeoTank that takes up little valuable cupboard space
Ideal for retro-fitting
Five year in-home limited warranty on the tap and two year full warranty on the tank for peace of mind
Comes complete with installation kit
Dimensions: tap height: 407mm, spout reach: 211mm
For more information on steaming hot water taps from InSinkErator®, please call 01923 375 349 or visit the website at www.insinkerator.co.uk