The KBB sector would appear to be in good spirits judging by the results of a recent survey jointly organised by kbbreview and the organisers of kbb Birmingham.
While it would seem that just about everybody has a view on the state of the UK's KBB sector, sound market intelligence is often quite difficult to get a handle on. So kbbreview got together with UBM Built Environment, organisers of kbb Birmingham and kbb London and conducted a wide-ranging survey of the market.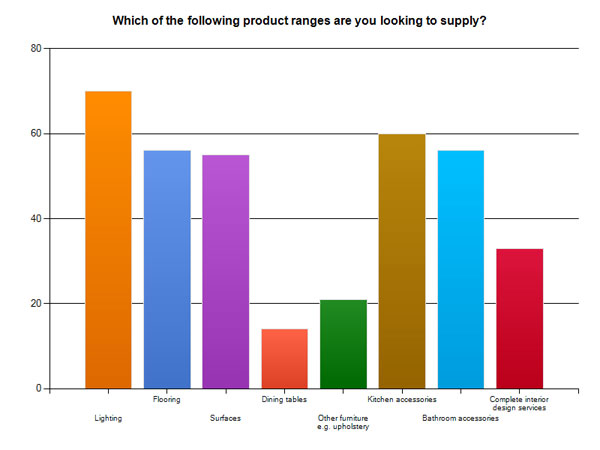 We put together an online questionnaire, which was completed by over 200 individuals, and then asked Barbour ABI to carry out follow-up interviews with a random selection of 50 of those who had replied.
The end result is possibly one of the most comprehensive surveys of the sector ever carried out. Taylist's managing editor Andrew Davies is presenting the key points of the survey at kbb Birmingham on 4 March and the full report will be shortly available as a PDF.
Upbeat
Given that the survey was completed after three of the toughest years the sector has experienced in its less than 50 years history, it has a remarkably upbeat start.
Just over than half of those polled (53.2%) reported that order values have increased in the past 12 months. Much of this growth is credited to the increased demand for more luxury brands, with many industry insiders revealing that the high end of the market has weathered the economic storm reasonably unscathed.
Kitchens take the lead with average sales values topping £30,000. Bathrooms straggle behind by a fair margin, averaging at a little over £9,000, and bedrooms come in third place at £4,629. The average spend in modern kitchens has increased where the UK market has seen more trending from European manufacturers such as Siematic and Hacker leading the German made kitchen invasion.
The survey revealed a wealth of KBB companies (29.8% of those surveyed), are planning to embrace diversification. Lighting is the most popular 'ad-on' (56%), with kitchen accessories a close second (48%). Nearly half (44.8%) of all bathroom specialists that responded are planning to add accessories to their product offering this year, while flooring is another key area for diversification for 44.8% of respondents.
Built-in sales
It would also seem that there is more to kitchen and bathroom retailers than complete kitchen and bathroom retailing too. 56.9% of kitchen retailers hare happy to sell built-in appliances on their own and 65.3% of bathroom retailers are happy to supply separates.
But what most are not prepared to do is charge for design services. Only 17.5% of those surveyed make an obvious charge for design services although nearly 40% of those surveyed design by hand rather than a CAD system.
Nearly 30% offer a comprehensive design service, which involves suggesting flooring, wall coverings and colour schemes, but only a small percentage (11.1%) make an obvious charge even for this full-on design service. Perhaps it's a sign of the widespread popularity of open-plan living that nearly 30% of the KBB industry is now mood board savvy – and creating living spaces rather than defined rooms.
Internet savvy
It is also Internet savvy, and in a big way! According to our poll, only 9% of those surveyed don't have a website. However just over 80% of those with websites do not offer online ordering.
Facebook is currently the most popular social network at 81.1%, followed closely by Twitter (72.6%). For more professional networking, LinkedIn is the top portal of choice (52.6% of those surveyed are members), while 11.6% regularly utilise web forums to discuss and keep abreast of industry news, while attending trade shows such as kbb Birmingham was seen as essential.
Online activity has been extended to business promotion in quite a big way as well. In terms of promotion, direct marketing via post or email is seen as the most popular (43%), with consumer press being favoured by 26%. Online advertising was in third place but substantially ahead of taking space at a consumer exhibition.
Recent debate
A recent debate on the kbbForum gave an indication that retailing without a showroom was a popular route to market and that was confirmed by this survey. Just over half (53.2%) of KBB suppliers have stand-alone showrooms. 14.3% have some sort of store-within-a-store arrangement, with the remainder being office, on the road or web based.
Membership of trade associations was low amongst those surveyed. Only 16.9% of those surveyed are committed to a trade association, and those that have signed up are likely to belong to at least two relevant associations, if not more.
Amongst those surveyed who were members of an association, the KBSA lead by a substantial margin 47.2%, but interior design-based associations are also gathering momentum. The long established British Institute of Interior Design (BIID), and more recently created Society of British Interior Design (SBID), boast a combined membership of 22.2% amid those polled.
Training
Training and qualifications are not seen as a strong requirement amongst those polled. Only 20.3% of those surveyed have professional design qualifications under their belts, which range from degrees in architecture and interior architecture, to BTECs and City & Guilds training in interior design. Perhaps more significantly as many as 75.9% do not believe that professional design qualification will benefit their business.
But despite the tough market conditions of the last three years, the overwhelming majority of those who completed the survey are looking ahead with positive expectations.
More than 70% of those polled are feeling more confident about business prospects for 2012, and of the few that are less confident, only a very small percentage (3.9%), are considerably concerned.
This Kitchens Kitchens news item was sourced from KBB Review following Kitchens Kitchens attending the KBB Birmingham Event, in which it was no surprise to see German Kitchens and German Kitchen companies dominate the Kitchen Trade show of KBB in Birmingham this month and we expect the trend to continue.