Leading German kitchen furniture manufacturer SieMatic has cleverly combined urban chic with country living in its latest stunning kitchen design, the SE4004 H in slated oak from SieMatic's new CityCountry.02 collection. The CityCountry.02 kitchen is so incredibly versatile, it can be adapted to individual design requirements for the ultimate personal touch.
In the SE4004 H in slated oak, cabinets are handleless and feature a unique green-grey oak veneer with a strikingly elegant, dark grain achieved from rubbing slate powder over the surface. Electronic door-opening with an industrial-style stainless steel worktop, featuring a sleek depth of 1cm, make these units exceptionally practical, too.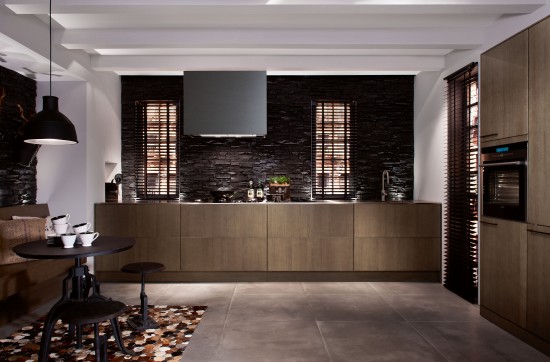 A cubed extractor hood is highlighted with a stainless steel panel to match the work surface and the backdrop of a dark stone wall and ceiling beams promote the industrial character of this truly individual design. This look is complete with a rustic finishing touch – iron stools and a table make this the perfect place in which to enjoy a cup of tea or a meal.
Bernard Otulakowski, Managing Director of SieMatic UK, adds: "From the eclectic CityCountry.02 collection which features elements of catwalk fashion alongside classic country detail, our latest german kitchens design, the SE4004 H in slated oak, embraces modernity with industrial functionality. It's the perfect choice for those who enjoy the latest trends in kitchen interior design and demonstrates how SieMatic can combine classic and contemporary design elements to create a new unity with a personal touch."
For further details on SieMatic's SE4004 H in slated oak from the new CityCountry.02 collection, other designs and your nearest stockist, please call 0161 246 6010 or visit www.siematic.co.uk
Melissa Playfair has 10 years experience in Marketing for Kitchen Retailers and she deals with all PR and online publishing for The Kitchen Directory and The Bathroom Directory. This article was reposted from the Kitchen Directory website at www.thekitchendirectory.co.uk and the are the copyright holders.