The concept of bold statement colours will continue trending in 2018 and according to the consensus, bolder colours, metallics and stone tones will feature heavily, as will the use of two or more colours. Two-tone colour schemes can offer beautiful juxtaposition when done correctly and in doing so, provide that wow-factor when showcasing your kitchen, often seen as the heart of every home.
However, when it comes to colour and colour trends Pantone is considered as the oracle of colour and since 2000 the Pantone Color Institute declares a particular color Color of the Year, with 2018 being Ultra Violet (ref #5F4B8B / 18-3838).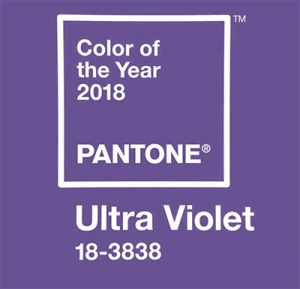 In interiors, Ultra Violet can transform a room into one of extraordinary self-expression, or conversely its polish can tone down a room with subdued, modern pairings. Adding spice and brightness, Ultra Violet calls attention to a tufted couch, piece of art, or accent wall. As a colour that can take you in so many directions, Ultra Violet makes a statement in any space, whether it's one of tradition and elegance or unexpected boldness. In hospitality, we are seeing purples like Ultra Violet take center stage in interior spaces as large and small hotels harness colour and design to entice travelers and stay relevant.
Complex and contemplative, Ultra Violet suggests the mysteries of the cosmos, the intrigue of what lies ahead, and the discoveries beyond where we are now. The vast and limitless night sky is symbolic of what is possible and continues to inspire the desire to pursue a world beyond our own.
Enigmatic purples have also long been symbolic of counterculture, unconventionality, and artistic brilliance. Musical icons Prince, David Bowie, and Jimi Hendrix brought shades of Ultra Violet to the forefront of western pop culture as personal expressions of individuality. Nuanced and full of emotion, the depth of PANTONE 18-3838 Ultra Violet symbolizes experimentation and non-conformity, spurring individuals to imagine their unique mark on the world, and push boundaries through creative outlets.
Historically, there has been a mystical or spiritual quality attached to Ultra Violet. The color is often associated with mindfulness practices, which offer a higher ground to those seeking refuge from today's over-stimulated world. The use of purple-toned lighting in meditation spaces and other gathering places energizes the communities that gather there and inspire connection.
Kitchens have secured their place as the home's central hub – the hub of cooking, socialising, and relaxing. The executive director of Pantone Colour Institute stated how important colour is for kitchens with this statement:
"The kitchen is absolutely a key place for colour. It's the place where people gather, so it's apt to have some mixing and matching of colours to create high energy."
Pantone's colour of 2018 is ultra violet. Pantone believes the colour to be much more than what is trending in the world of design. It sees the choice of ultra violet as a true reflection of what's needed in the world today: boldness – and this is something we will see a lot more of in 2018.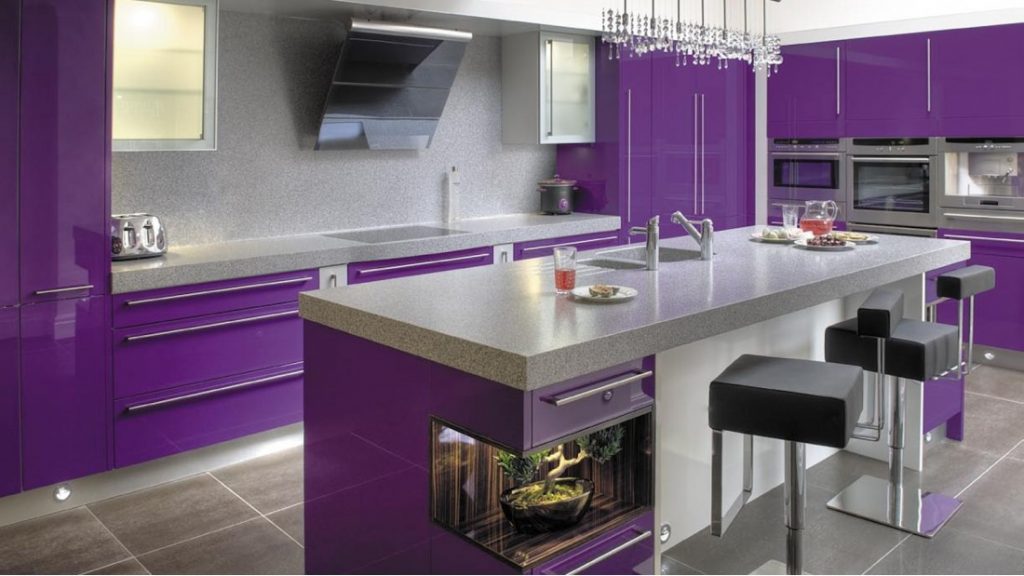 How to Use Pantone's colour of 2018 – Ultra Violet
Ultra Violet Walls – Bold, daring yet stylish, ultra violet has a great potential when used on walls or if you wish to tone it down perhaps use it for one feature wall. The secret is in the ability to match it with other shades that can complement its extravagance or enhance its elegance and ultra violet pairs very well with the warm and earthy tones of walnut and oak but also with the more industrial stainless steel and also the ubiquitous white and/or black.
Ultra Violet Painted Kitchen Doors – Using ultra violet to paint the kitchen doors can be a very bold choice and matched either with neutral tones or with intense shades, this colour adds a lot of personality and character and will certainly transform a dull and drab environment into a more stylish and distinctive contemporary space.
Ultra Violet Accessories – Ultimately kitchen accessories in ultra violet is the preferred route to using this vibrant colour as shown above using ultra violet as a solid colour theme can be quite overpowering and good luck trying to sell you home with such bold colour choices.
Instead, by painting a wall or using accessories, splash backs, decorative panels or little accent colours that lots of the german kitchen brands like Nobilia, Schuller and Pronorm offer can give your kitchen an unexpectedly refined look by sticking to the 'less is more' design principle.
Whilst Ultra Violet worked for the music icon Prince or the original Joker from Adam West era Batman it should be noted that these were larger than life characters and carrying off such a bold colour choice in your home is a very different proposition so instead of needing to wear sunglasses in your kitchen instead try using ultra violet tableware, utensils or as more of a motif or accent colour as opposed to a main character as after all some colours are more suited for the supporting actor role.