German kitchen manufacturer Schüller has bolstered the online presence of its next125 brand with a new website and "integrated and strategic social media programme that enables direct connection between customers and next125's independent retailers".
According to Schüller, the goal of the brand's new digital presence is to "increase the brand's position in the premium sector by creating an emotional bond with customers looking for contemporary kitchen furniture designs".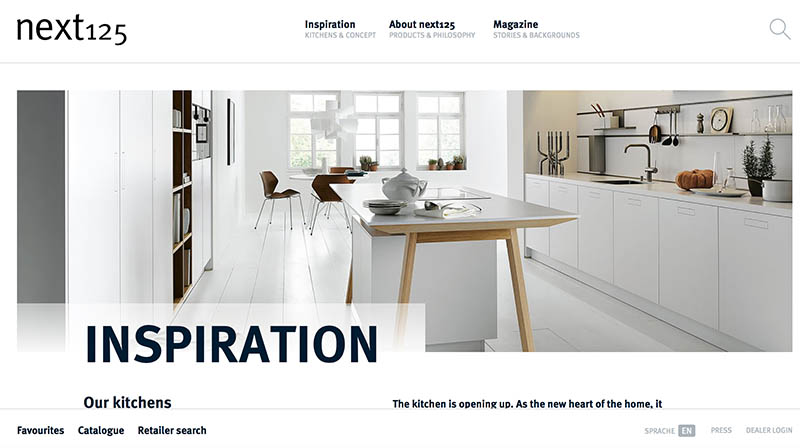 The new next125 website (shown above) has a "simple design and clear structure" and is mobile-friendly plus it features an 'Inspiration' page with images of kitchen concepts that can be shared on social media platforms such as Pinterest.
Whilst the 'Inspiration' page is a good idea a criticism is that not everyone is tech savvy and many people may get lost in the new site looking for the gallery style overviews of before.
The website also includes information on planning options such as equipment, front finishes and accessories, as well as a 'Food Talks' section of "exciting and exceptional stories" alongside further information on design trends.
As with its 2017 branding Schuller is keen to promote the environmental and sustainability credentials of its kitchen manufacturing via the use of nature and animals in some of its more arty and conceptual imagery.
Whilst many accessories come factory supplied from Schuller the furry creatures are not one of the options sadly.
Schüller is also introducing the next125 brand to Facebook, Instagram and Pinterest to accompany its existing Houzz, Architonic and YouTube channels. "By intensifying social media activities, we aim to strengthen the impression customers have of the next125 brand and to communicate directly with our target group," said CEO Markus Schüller.
Founded in 1966 by Otto Schüller, the company is now one of the top 5 in the industry. Continuously expanding during the years that followed, the former carpenter's workshop has now developed into an innovative global enterprise, employing approximately 1450 people. Schuller are now exporting kitchens all over the world and this family-run company has been under the management of Markus Schüller, Max Heller and Manfred Niederauer since 2003.
The workforce manufactures over 112,500 kitchens every year in Herrieden in Franconia every single Schuller kitchen is individually tailored to its customer's requirements before it is made in Germany under environmentally sound practices.