As consumers or prospective kitchen buyers its great to see nice glossy brochures that highlight the styles, the workmanship of the kitchen manufacturer and the more technical data that comes with the brochures, but you cant beat a good Real Kitchen Case Study to see for yourself, how a kitchen might look.
So with this in mind, Kitchens Kitchens have a dedicated section just for Real Kitchens and this time we are back to the busy team over at i-Home Interiors in Little Marlow, Bucks.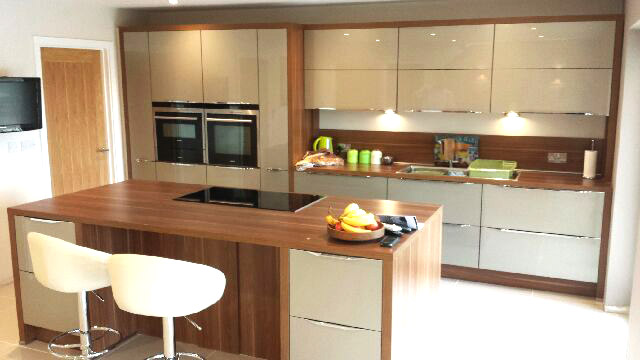 Personally we love the new colours that are coming through from the likes of Nobilia such as the carbons and metallic's and as seen above the Nobilia Champagne, which the team at i-Home have perfectly balanced with American Walnut.
The Champagne offers a lovely gloss tone that is unlike many others on the market and is a distinct break away from the traditional monochromes (esp white) that the German kitchens brands have been famed for. Being paired with American Walnut, which in itself is one of the more contemporary wood finishes just adds a greater sense of warmth and depth.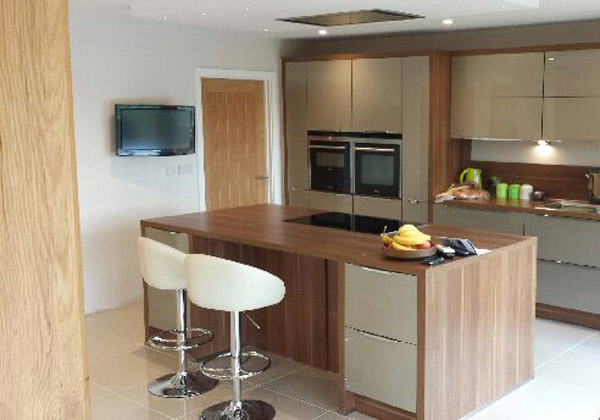 The design features bi-fold wall units, a tall bank housing single oven and built in microwave and warming drawer and using the Siemens brand you can see the greater attention to detail in that despite looking like two identical single ovens, the three Siemens appliances are just as ergonomically designed to work in tandem with one another, which is an attention to detail that brings out the best in the Nobilia furniture.
Everything Fits…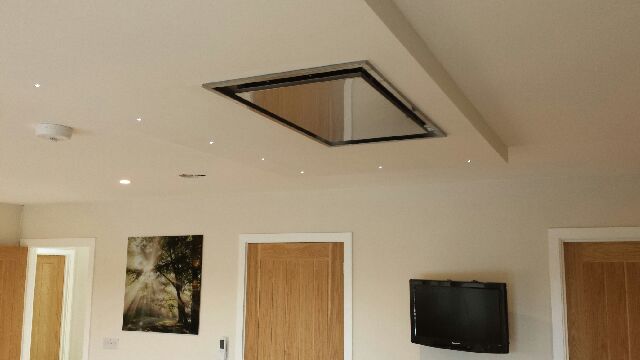 Another use of Siemens was in the stainless steel ceiling mounted extractor which adds both wow factor and explemplary performance.
The i-Home team have been known to Kitchens Kitchens for some time now and their range of kitchen furniture aptly reflects the mid to high level kitchen buyer perfectly.
With premium Italian brand Bontempi, class leading German kitchens brand Nobilia and for those wanting English made kitchens i-Home have the Burbidge brand, which all offer their customers something unique and distinctive that the other two brands don't really offer.