New to Kitchens Kitchens for 2013 is our Real Kitchens feature in which we showcase some of the UK's real customer kitchen case studies in an effort to both inspire consumers, and showcase some of the talented kitchen designers working at some of the UK's small to medium sized kitchen companies.
Today's Real Kitchens Feature is from i-Home Interiors in Little Marlow, Buckinghamshire and a German Made, Nobilia Gloss Kitchen for one of their customers in Reading.
A few words from I-Home Interiors:
Classic Kitchens are perfect to help make an ideal living space to go beyond and exceed seasonal trends and this particular kitchen we at i-Home Interiors designed and fitted in Reading, Berkshire is a perfect example.
When our customers, Mr & Mrs Williams-Jones visited us, their eyes were quite open to an array of options and advice from ourselves in order to help them with their own ideas and vision to go about revitalising their old, tired kitchen. Our designer Alex gave Mr and Mrs Williams-Jones some helpful advice and guidance to help them see the full potential of their new kitchen and listen to the Williams-Jones' needs to balance functionality and ease of use with a bright and roomy kitchen.
The next step following the advice was for Alex to then visit the Williams' in the comfort of their home in order to take precise measurements and also to sit down and get an understanding of what was required with the design, the Williams-Jones' daily requirements and required functionality.
Often customers will have an idea of what they want but sometimes they will have nothing more than something they have seen at a friends house from which to start with but the overriding principle is usually that they want to make it their own.
We also get enquiries from time to time, from people saying they want a kitchen like one they have seen on an episode of Come Dine with Me or Grand Designs. Its clear that people are more open to experimenting nowadays which is great for our creative side, but obviously our role is to ensure that whilst we are creative that we offer a consultative approach to the needs of the customer so that whilst they get the styling influences they are after, the end result is a kitchen that is fit for purpose and one they can live with day in, day out.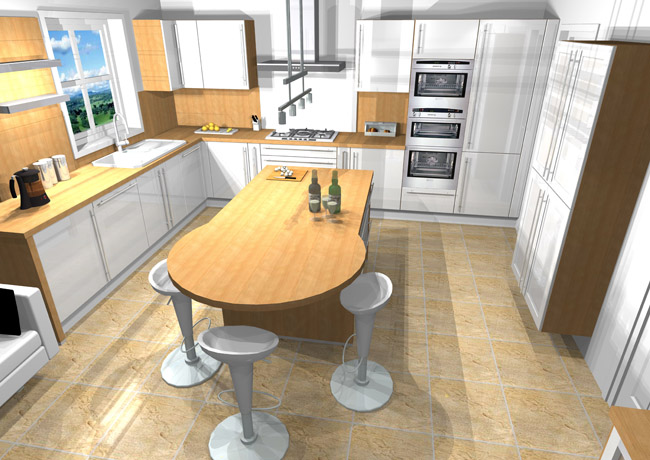 The brief for our design team with the Mr and Mrs Williams-Jones project was to create a Classic kitchen mixing a white high gloss door with the use of beech wood, and to incorporate careful consideration in respect of lighting, in order to create an exciting and effective lighting profile to showcase the kitchen in a warm and inviting feel.
Over a 4-5 week period i-Home Interiors designer Alex sent visual designs back and forth, working with the customer to ensure the kitchen was unique to them whilst remaining true to the brief.
Mr & Mrs William-Jones opted for the Prima White High Gloss & Heartwood Beech Reproduction kitchen. The kitchen includes a pistachio painted glass splash back, Instant boiling water tap, Blanco Silgranit sink + Tap and Neff kitchen appliances .
Once they were happy with the visual design plans and were ready to proceed, the order for the kitchen and appliances were placed with the respective suppliers and a convenient installation date was worked out between i-Home Interiors, the fitter and customer.
The kitchen and accessories were delivered 4 weeks from order with the installation commencing the following week. Our experiences to date with Nobilia instil us with continued confidence as its essential for both ourselves and the end customer to have faith that what is ordered is what is delivered, on time, to budget and damage free. The installation ran flawlessly and although, as with any kitchen fit (even the German made ones), unexpected issues may arise, but any niggles were found and quickly resolved and the kitchen project was completed within the agreed time scale with minimal mess and disruption.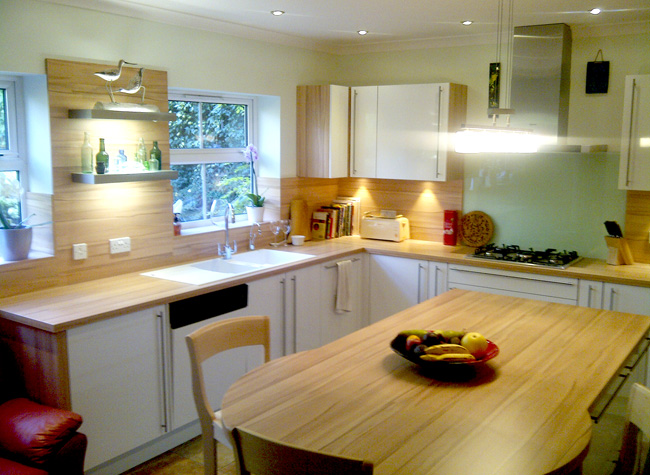 As with all of the kitchens we design and install, customer satisfaction is paramount and to have Mr Williams-Jones comment the following:
"Great job on the kitchen, we are really pleased with it" … the new room really helped us to have a good Christmas."
was certainly the icing on the cake.
About I-Home Interiors
I-Home Interiors are based in Little Marlow, Buckinghamshire, just outside the M25 and work with German Kitchens from Nobilia and Italian Kitchens from Bontempi in order to offer their clients a stunning range or kitchens with style, created individually and tailored bespoke to each customers needs.
I-Home Interiors are perfect for consumers looking for kitchen in Reading, Slough, London, Maidenhead, Henley, Oxford, Watford, Windsor.
See www.i-homeinteriors.co.uk or call them on 01628 484616