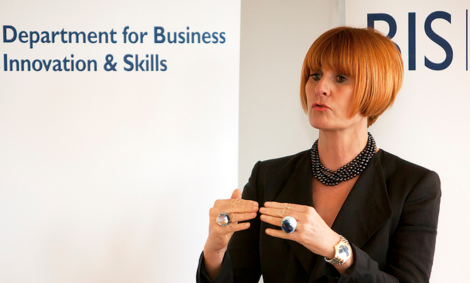 The Government is to set up a national Future High Streets Forum in a bid to save more retailers from going the same way as Jessops, Comet and HMV.
Launched today (February 7), the initiative brings together businesses, councils, retailers and property experts to progress work on securing a successful evolution of our high streets and to take forward recommendations from the Portas Review.
Members include representatives from John Lewis, the British Retail Consortium (BRC), the British Council of Shopping Centres, the Association of Town and City Management and the Association of Convenience Stores.
Responding to the launch of the Future High Streets Forum, the BRC called it a welcome step towards addressing some of the deep-seated problems facing many of our high streets.
BRC director-general Helen Dickinson, who will be a member of the new Forum, said: "We welcome the continued focus on finding practical solutions to the difficulties that many of our high streets face. Successful town centres are the beating heart of our communities and essential to local economies. Many high streets are facing a real endurance test in these relentlessly tough times, and rising operating costs are making matters worse.
"The BRC has long campaigned for action to secure a successful evolution of our town centres and to make them safe, attractive and viable. We've set out clear steps for improving local trading environments and preserving and protecting local businesses. We very much support the implementation of meaningful measures at national and local level to support towns and cities across England."
The initiative was also welcomed by the Forum of Private Business.
FPB Policy advisor Robert Downes said: "It's great to see the government thinks our high streets are worth saving, and is making a credible effort to stop the rot."
He went on to say: "The Forum thinks councils have to take a lead at a local level though, through initiatives such as free car parking, and better public transport links. Crucially though, planning departments need to change, as do the rules and regulations they are governed, to make it less onerous for new businesses to start-up and harder for supermarkets to move in and takeover.
"While the internet has been blamed for the damage to the high street, we must remember supermarkets have played their part as well. Only recently there have been reports of supermarkets clamouring to take over premises now empty thanks to the collapse of firms such as Jessops and Blockbuster."
Mr Downes called for new planning powers to allow authorities to refuse planning applications from supermarkets if it is likely to detrimental to other local small businesses.
He concluded: "Time really is of the essence now, and so far there's been little movement since the Portas review in 2011. We've seen big-name stores collapsing one after the other, and 2013 has not started very well either."
Kitchens Kitchens Jeff Russell on the Future High Streets Forum
No one wants the High Street to close for good and it's a sobering thought that if we continue to neglect the High St as consumers, town planners, city councils, retail organisations and landlords, we will only usher in town centres full of Supermarkets and Fast Food Chains.
One only has to look at any large city to see that there are already several Tesco stores and other brands like Sainsbury's within easy walking distance of one another in the city centres, which in turn are serving alongside that particular brands' major outlets on the cities outskirts and whilst Kitchens Kitchens (as many do) believes that the likes of Tesco's should stick to food, they are selling everything these days, and not just electrical goods, but Weight Loss Camps, Financial Services, and even kitchens and bathrooms?
Whether we blame the supermarkets or Amazon and Apple for the demise of HMV and Jessops or not, the sobering truth is that if we don't use our High Streets, we will lose them.
Empty shops don't give landlords rent, nor do they provide local councils with council tax, nor do they provide HMRC with VAT and Corporations Tax but they certainly do put consumers off from visiting if the perception is that that High Street is past its sell by date and it is up to all concerned parties to not just take what they can get, but work together to create an environment that is attractive to consumers.
Why is it that the retail experience starts and ends with Christmas?
If you go round most cities be it London, Manchester, Liverpool, Leeds, Edinburgh or otherwise, there is a vibrancy about Christmas. Retailers club together to put up decorations, the local and city councils allow food stalls and markets to set up, music is generally playing and consumers go out obviously to buy Christmas presents but they also go out to enjoy the retail experience.
You only have to see the fanfare of when a hotly anticipated Xbox/Playstation game comes out or a cinema release, with people camping outside to understand that if people are motivated they get into the spirit of things, and when they are in high spirits, they spend.
The High Street needs to do more in the way of non Christmas fanfare that attracts more consumers into the town and city centres, and not taxing and fleecing the last penny out of the few that do. The carrot and the stick work in varying degrees in most of life's situations but in terms of retail it always will be the carrot that wins out.
That retail experts John Lewis, the British Retail Consortium (BRC), the British Council of Shopping Centres, the Association of Town and City Management and the Association of Convenience Stores are focusing collective attention to our High Streets can only be a good thing but as consumers will also owe it to ourselves to Use, Not Lose our High Streets.