Siemens Home Appliances has won nine iF Design awards for 2018, with products from the brand's premium studioLine ranges taking home awards alongside its iQ700 and iQ500 ranges.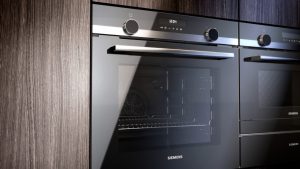 According to Siemens, it was praised for its precision engineering and "future-proof style" by the iF Design Awards judges. "We are honoured to see nine products recognised by the iF Design Awards; it's a validation of our modern, yet lasting design strategy," said Siemens Home Appliances global design head Gerhard Nüssler.
Siemens' iQ700 studioLine CS858GRB6B compact steam oven, iQ700 studioLine HN878G4B6B single oven with microwave and iQ700 studioLine HS858GXB6B combination-steam single oven took home awards.
The brand's iQ500 HB578A0S0B and HB535A0S0B single ovens, iQ500 MB535A0S0B and MB557G5S0B built-in double multi-funtional ovens, and iQ500, NB535ABS0B and NB557ABS0B built-under double multi-function ovens also won awards.
"When we innovate, it's not just about functionality," added Nüssler. "Our home appliances unite intelligent, cutting-edge technologies and a unique, architectural design that uses premium materials to create clear and straight-lined aesthetics."

The Product Design competition has existed since 1954. Its award, the Red Dot, is an internationally recognised quality seal. The best products receive the Red Dot: Best of the Best award from the renowned iF International Forum Design. The award, which spans multiple disciplines, has more than 5,500 entries from around 59 nations every year.