In German kitchens news that bucks the Covid (downward) trend, Nobilia Kitchens retailer Kutchenhaus has opened its 34th franchise in Bath.
The Kutchenhaus Bath showroom is close to the Waitrose supermarket on Saracen Street and is managed by owner Rob Cash, who previously managed the Kutchenhaus store in Bristol.
Commenting on the move, Cash said: "The team is incredibly excited to be opening the brand-new store in Bath, and are looking forward to welcoming the community through the doors. We plan on having a socially distanced launch, where we will invite people to the showroom in specific staggered time slots.
"It has taken six weeks to completely transform the space to Kutchenhaus's high-quality standards. We are looking forward to meeting shoppers and introducing them to the new showroom. There are a number of home-improvement companies in this area of Bath, which will make it a perfect place to visit if you are planning to improve your home. Our location is very similar to the location of our Bristol showroom, which gives us confidence we can be successful in the town."
National head of sales and operations for Kutchenhaus, Sean Ford, said: "Kutchenhaus is on an ambitious growth path over the next two to three years. However, being in the grip of a global pandemic has certainly presented some challenges and even positively altered the way we do business in some cases. It is therefore extremely satisfying that Rob and the team are now in a position to be able to open a new store in Bath and offer local customers the opportunity to plan and design their dream kitchen.
"We are very excited to be part of the new showroom opening in Bath – a community we believe is in a good vibrant location and is connected well to the surrounding areas. The new store will no doubt offer an engaging store environment and deliver a high-quality product, a market opportunity which we know is currently in high demand.  We wish Rob and the team all the best and wait to see their future success."
About Kutchenhaus
Nobilia Kitchens retailer Kutchenhaus was established in 2004 at Trafford Retail Park, Manchester and then it developed 3 more flagship showrooms at Sutton Coldfield, York and Brentwood before expanding on its franchise model.
The Nobilia Kitchens franchise model has seen a Bristol showroom, Beverley, Chichester, Exeter, Farnborough, High Wycombe, Liverpool, two in London, one in Tunbridge Wells and amongst other, now Bath.
Can the franchise model beat the Covid Downturn?
Operating a showroom network is a costly affair, even for a business such as Kutchenhaus who are owned by Nobilia in Germany.
Whilst Kutchenhaus has come in for much criticism amongst the Kbb independents, particularly some independent Nobilia retailers who see Kutchenhaus as nothing more as an attempt by Nobilia to undermine their own businesses, the franchise model is a shrewd business tactic as it de-risks one off the biggest overheads in the Kbb sector, namely staffing and operating retail space.
Through a franchise model the franchisee benefits from an established brand name and the franchisor (Nobila) benefit from the start up costs being assumed by the franchisee.
As the new Kutchenhaus Bath owner/manger Rob Cash (pictured) pointed out when opened the Kutchenhaus Bristol franchise in 2017, he cited the support in setting up the franchise showroom was preferable to him than going it alone.
So, bearing in mid the current economic conditions that the Kbb sector is in, that German kitchens news is buzzing with another Kütchenhaus franchise, time will tell if the franchise model, (all other things being equal) can fair better than the true independents in the sector.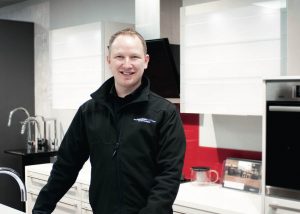 Rob explained that becoming a Kütchenhaus franchisee gave him the confidence to open his own showroom. He was already an experienced kitchen designer whom had always dreamt of running his own business but had lacked the confidence to go it alone.
"I was terrified of setting up my own business, but it's something I'd always wanted to do," he explains. "Although I've spent years in the kitchen industry, setting up a business was completely new to me, so I really relied on Kütchenhaus to give me the support, guidance and advice I needed.
"They helped me to sort out all of the things that, as a new business owner, I would have had to learn the hard way if I'd been on my own. They have a team of franchise managers and there's a big team at head office, with a range of different skills and job roles, so there's always someone at Kütchenhaus available at the end of the phone to give me the answers I need.
"To me, being a franchisee is just like having your own business but with the added benefit of the support and structure of a national company. That's the key for me. I don't think I would be in the position I am now if I'd had to start the business from scratch, on my own."