The UK kitchen industry is vibrant and creative, at times tumultuous and also polarised both in terms of style and the typical profile of retailers in the business. Style wise the market is very polarised towards classic and inframe kitchens or the modern European (i.e. German) influenced whereas the businesses serving the industry until recent years have almost exclusively big brands and corporates or the small independents. All except Kutchenhaus that is which seems to be following the example led by the brands the likes of In-toto and Mobalpa with a franchise model.
Kutchenhaus have a leg in both camps and whilst the core business is part owned by Nobilia itself, much to the annoyance of the independent Nobilia retailers, in recent years Kutchenhaus have been pushing their franchise model, which granted doesn't produce truly independent retailers but nevertheless, as Kutchenhaus Bristol franchise points out the support in setting up the franchise showroom was preferable to him than going it alone.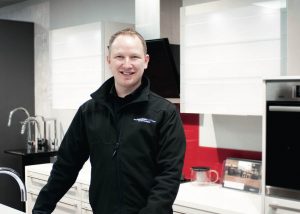 Rob Cash (pictured) explains that becoming a Kütchenhaus franchisee gave him the confidence to open his own showroom. He was already an experienced kitchen designer whom had always dreamt of running his own business but had lacked the confidence to go it alone.
"I was terrified of setting up my own business, but it's something I'd always wanted to do," he explains. "Although I've spent years in the kitchen industry, setting up a business was completely new to me, so I really relied on Kütchenhaus to give me the support, guidance and advice I needed.
"They helped me to sort out all of the things that, as a new business owner, I would have had to learn the hard way if I'd been on my own. They have a team of franchise managers and there's a big team at head office, with a range of different skills and job roles, so there's always someone at Kütchenhaus available at the end of the phone to give me the answers I need.
"To me, being a franchisee is just like having your own business but with the added benefit of the support and structure of a national company. That's the key for me. I don't think I would be in the position I am now if I'd had to start the business from scratch, on my own."
With the help and support of Kütchenhaus and its franchise support team, Cash opened his showroom in February this year. Located in the Clifton Down Shopping Centre in Bristol. His showroom features six displays and according to various reports the franchises handle the designs and sales but the fitting is organised from the Manchester company HQ, which seems to have produced a number of customer complaints according to online review sites such as Trustpilot.
Cash explained "We've been in business for four months and have had a really positive start," he says. "Within the first three months of being open, we had designed and sold 12 kitchens, two of which were off the back of referrals based on the quality service we offer.
"We've also had a lot of positive enquiries from people who are planning extensions and there is real potential for those jobs to land within the next month or so.
"The beauty of being a franchise is that you can follow a successful business model that's already proven and doing so well. I strongly believe that if I'd started out as an independent retailer, it would have taken years to get the business to the point it's at now, but the Kütchenhaus franchise model has given me almost instant success." According to Cash, Kütchenhaus tailors its service to suit the needs of each franchisee. The franchise team gets involved as much, or as little, in setting up the business as each franchisee requires.
As part of its service, parent company Nobilia will send a team of fitters, from Germany, to take care of decorating the showroom and installing every display. This service was just another aspect that attracted Cash to the Kütchenhaus franchise model.
"Kütchenhaus supported me with the planning of the displays, although I had my own input," he explains. "They organised delivery of the product and had all of the displays arranged and installed to my specification.
"The brand took all of that stress and worry off my hands. And, it's a free service, which is just another plus point of working with this particular franchise model."
With so many kitchen brands now going down the franchise route in the UK, what was it that attracted Cash to Kütchenhaus?
"Once I was sure I wanted to open up a franchise showroom, rather than set up as an independent retailer, I spent a lot of time researching the market," he explains. "There were lots of options, but I was already familiar with the Kütchenhaus product, having sold it at in the past for another major retailer, so that was obviously a positive.
"But, what I really liked about Kütchenhaus was that there wasn't a start-up fee and the brand seemed genuinely interested in making my business a success for me, as well as the brand. And, I'm already reaping the rewards.
"The Kütchenhaus model is still in its infancy, but the brand has ambitious expansion plans and is looking to grow its franchise network over the next year. I felt that opening my own Kütchenhaus showroom was a fantastic opportunity to get on board with a company that's really going places."
About Kutchenhaus
Kutchenhaus was established in 2004 at Trafford Retail Park, Manchester and then it developed 3 more flagship showrooms at Sutton Coldfield, York and Brentwood before expanding its franchise model which has seen Rob Cash (as featured here) with his Bristol showroom and others in Aberdeenshire, Beverley, Chichester, Exeter, Farnborough, High Wycombe, Liverpool, two in London, plus Tunbridge Wells and according to the business future showrooms are coming soon to Aberdeen, Cardiff, Linlithgow, Orpington and Sheffield.