News that builders' merchant and home improvement retailer Travis Perkins plc profits have plunged 81% due to coronavirus has sadly come as no real shock to the KBB sector, which has seen the sector devastated during the usual Spring and Summer surge in home improvement and building activity.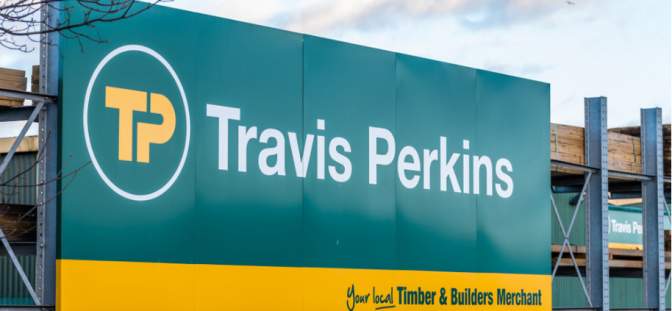 The home improvement and hardware retailer said revenue slumped to £2.78 billion for the six months to June due to the "significant impact" of the virus and subsequent lockdown.
Travis Perkins said group like-for-like sales were 34.8% lower in the second quarter, although sales improved towards the end of the period.
Chief executive Nick Roberts speaking of the results noted the significant impact of the coronavirus pandemic on the group's first-half earnings but added that the group had still made tremendous progress and had "navigated Covid well" and would "come out stronger".
Travis Perkins Group is the parent company of Wickes, Toolstation, Benchmarx, Tile Giant and City Plumbing and Mr Roberts comments were made as he was speaking as part of a group wide presentation of the parent's half-year results up to June 30.

Total group revenue was down but the headline figure and a shock for shareholders was that adjusted profits nosedived by 80.9% from £220m last year to £42m in the first half of 2020.
Profits were impacted by a number of factors, included furlough costs of £65m, overheads and inflation (£20m), Toolstation investment (£12m) and Toolstation Europe losses of £9m.
Although subsidiary Toolstation's revenues were up 37% to £285m its profits also slumped by 90.8% to £1m.
Whilst Covid and Brexit supply issues were a perfect storm for UK retail when retailers would normally be making the most of the buoyant Spring Home Improvement market, that Travis Perkins has remained in profit, albeit with lower revenues will undoubtedly aid the group as it navigates the year end and a possible second lockdown.
For Wickes and Tile Giant, revenues were 8.5% down at £636m and profits down 8.5% at £32m. In Plumbing and Heating, incomes were down 33.4% to £475 with profits down 133.3% from a profit of £24m in H1 2019 to a loss of £8m this year, but restructuring costs are expected to deliver £25m in annualised savings.
But whilst the group remains in profit, it does come at a cost. In June, Travis Perkins announced plans to close some 165 stores and cut 2,500 jobs –understood to be 9% of its workforce – in a response to whatTravis Perkins called the 'challenging outlook' ahead for trading.
The restructuring plans aim to save an annualised £120m, most of which measures had already been implemented by the end of August, saving £85m to date.
Commenting on the results, Roberts said: "While the pandemic has had a significant impact on our performance and our earnings are understandably down compared to 2019, we have performed exceptionally well in other areas, such as our cash performance, and showed great resilience as a business through the pandemic.
"We had a really good start to the year, with revenue growth of 2.4% up to March 18, but then experienced weakening of both revenue and operating profit as demand slowed during the pandemic. We were able to partially offset this by controlling and reducing our costs and by focusing on cash and with that we reduced our net debt by £300 million in he period – a truly fantastic result during the pandemic."
Speaking of the future, Roberts added: "In light of the challenging outlook, in June we announced a major restructuring programme, which will deliver annual savings of over £120m. Our unwavering priority throughout this period has been the safety and well-being of our colleagues and our customers, while we have sought to maintain an essential service to all of our customers at all times."
The Travis Perkins company began life in 1797, when the Benjamin Ingram company of joiners and carpenters was founded and Benjamin Ingram subsequently merged with Perkins to become Ingram Perkins
Today, with some 26,000 employees (down from 28,000 in 2019) across brands including Wickes, Travis Perkins (general builders' merchant & tools), Benchmarx (trade supplier of kitchens and joinery) plus PlumbNationand consumer brands TileGiant and ToolStation the Travis Perkins Group is a force in the UK KBB and DIY sector.
So news of the Travis Perkins profits plunge which is in stark contrast to the turnaround the group announced in 2019 and prior to Covid is sadly a sign of the times during the pandemic and the loss of KBB jobs from the Travis Perkins profits plunge is not only a shock for the KBB sector, but the economy in general.