iHome Interiors recently completed this Nobilia German Kitchen – Maidenhead, Berks (SL6) using both Focus and Laser, door styles in Alpine White as the primary colour and Gladstone Oak to the tall bank in true handle-less from the LINE N range.
Nobilia 312 Focus ; 615 Laser, 427 Alpine white, 002 Handle-less LINE N
Quartz New Extra White Worktops
Neff Appliances
Blanco Silgranit Sink
Elica Extractor
The kitchen island offers a subtle but spacious gateway between the living space and the main kitchen and with Blanco SUBLINE Silgranit® sink offering lovely balance to the wood tones of the chunky breakfast bar the island is aesthetically pleasing but as with any good German kitchen, function follows form and with ample workspace for food prep and a Neff Flexinduction Hob (model T51T53X2) beneath the Elica Joye Insel extractor with pull out storage under the counter, this kitchen island is a great focal point in the room and the bar stools perfectly complete the look.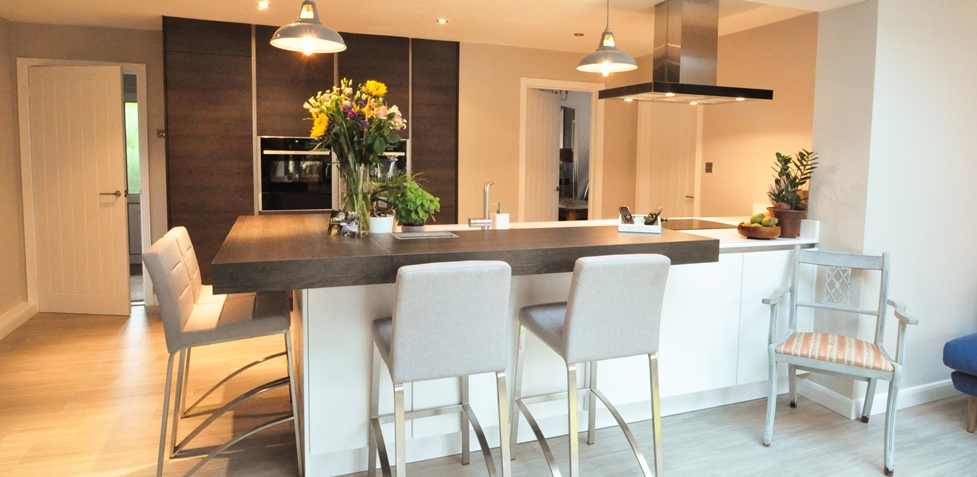 The tall bank in Gladstone Oak is a great contrast to the Alpine White doors and with a Neff Slide & Hide Single Oven (model B47CR32N0B) plus Neff Compact Oven with Microwave (C17MR02N0B) and a Neff Warming Drawer (N17ZH10N0) the tall bank offers superior storage availability and a ergonomically balanced cooking zone.
For more on this Nobilia German Kitchen – Maidenhead, Berks and additional images please visit iHome Kitchens & Interiors whom design and install a stunning range of English Made and Nobilia German kitchens across Buckinghamshire, London, Berkshire, Surrey, Oxfordshire, Hampshire and Hertfordshire.
iHome Kitchens & Interiors
The Workshop Factory,
Westhorpe Farm Lane,
Little Marlow, Bucks,
SL7 3RQ
01628 484616
Open Mon – Fri : 9am – 5pm , Sat : 10am – 3pm by appointment only