Research company Insight Retail Group (IRG) is to launch a consumer price comparison website for the kitchen market called kitchen-compare.com and is keen to canvas opinion on the idea among independent retailers.
The website, which will be live by Monday, has been developed in an effort to make kitchen planning less confusing as the group claims that UK consumers are currently faced with a 'bewildering array' of designs, prices, promotions and information.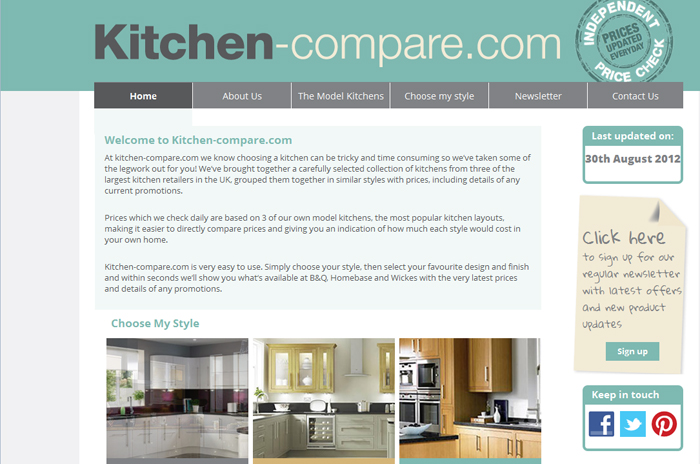 Kitchen-compare.com promises to provide an independently price checked comparison of kitchens from leading multiples, Wickes, B&Q and Homebase that will make the decision process easier for consumers, with prices updated regularly, allowing the user to save time, money, energy and frustration.
Steve Collinge, commercial director at IRG said, "We want to cut through the confusion, save time and clarify exactly how much a kitchen will cost so consumers can decide where to purchase from."
Collinge went on to say that independent retailers might find the site useful, even if they weren't featured.  "Independent retailers might think it's useful for them internally and useful for their customers but might not feel that they want their products on the site. But it could be beneficial to them to be able to see what the multiples are selling things for, if they want to price match."
He is keen to open up a discussion with four or five key independent retailers and wants to get them involved. "Would they feel threatened by it? Or do they see it as value? Is it something they want to be a part of?" he asked.
A common perception is that the multiples are much cheaper than the independents but Collinge claims that the website could dispel this idea. However, he admitted that there would always be an element of risk with price comparisons, particularly against sheds, where they are cheaper and said that certain consumers would always want the extra service offered by independents or a bespoke kitchen and that some would always go down that route.
 KBB Editor welcomes industry input on this and you can email him at tim@kbbreview.com.
Kitchens Kitchens take on the news
Obviously the proof is in the pudding but on first look the only comparison seemed to be between kitchens from Wickes and B&Q, which account for a very small section of the overall market.
Small bespoke kitchen retailers probably wont get involved, and Steve Collinge, commercial director at IRG is probably right in what he says in that the smaller firms may well use the site to review their own prices but is it therefore really a site for empowering consumers when such a small fraction of the market (and only big brands) is 'compared'?
The revenue streams for the site are not clear either so it is difficult to gauge the direction from where the site is coming from and heading to. As of yet there is no advertisers and the results of the 'comparison' can only be printed out so it seems there isn't yet a commission structure in place as there is for the likes of car insurance firms via comparison sites.
Good or Bad?
Its good to see given prices for the same amount of 'kitchen furniture' but the site doesn't take into context the other 60% of the kitchen elements like appliances, clever storage, different worktops other than the basic laminate, the variation in quality of materials to a high enough standard nor the consultative approach, design team and customer service that makes up the whole kitchen buying process.
The site doesn't also say whether design and fitting is included or even if the kitchen furniture is delivered or has to be picked up in-store?
Like Beautiful Kitchens magazine, which is a brilliant resource and we do love it very very much, its useful to compare 'kitchen cabinetry only' but the type of customer/consumer that would use this site is likely either a DIY'er or a developer/landlord looking for comparisons to buy in bulk, and where cost is the only consideration, so in its current guise, its not something of a threat as much for the little guy as it is for for Wickes and B&Q to thrash it out.