This week the world will be turning it's head to England as the Queen celebrates her Diamond Jubilee and in keeping current with the theme, Magnet Kitchens have unveiled a Diamond Jubilee Kitchen.
Its hard to escape everyone all gearing up and getting ready for a long Bank Holiday weekend full of bunting, afternoon tea parties, royal family souvenirs, endless news coverage and hopefully, a sight of HRH Pippa.
Magnet Kitchens however, thought it would be fun to get into the spirit of the Diamond Jubilee and produce a 3D mock up a Diamond Jubilee Kitchen – fit for the Queen.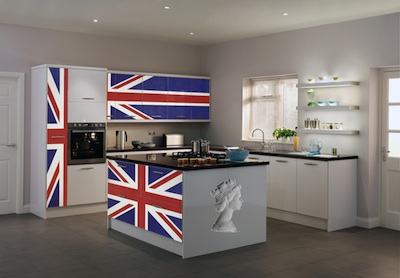 Taking the Magnet Neve range, they have created a somewhat unique kitchen concept by printing the Union Jack onto the cupboard doors and in doing so. contrasting the bold colours of the flag with the ultra-contemporary design of the Neve kitchen style to create a visually striking effect.
What better way to show Magnet's celebration of the Queen's 60 year reign you may ask?
Looking back to the Silver Jubilee of 1977, the Sex Pistols' hit single God Save the Queen had almost overtaken the official celebratory events in terms of its historical notoriety. But there is no equivalent for this year's Diamond Jubilee – only a half-hearted attempt to get the original single back in the charts.
Lose the Queens figurehead of the island end panel and maybe a few Punk Rockers would go for the Union Jack Kitchen instead as although its patriotic, we somehow doubt Her Maj will be getting it fitted at Buckingham Palace any time soon. Shame really.
Magnet is one of the UK's leading kitchen specialists, with over 90 years experience and almost 200 superb kitchen showrooms nationwide. They're the UK's largest kitchen retailer and part of the biggest kitchen group in Europe so we're always the first with the latest kitchen trends, technologies and design possibilities.
As you would expect from modern kitchens experts such as Magnet, we also offer you a choice that's second to none. So come to us for a quality kitchen and we'll show you over 40 stunning designs in 3 kitchen collections, catering for every style, taste and budget. And whatever kitchen you choose, it will be backed by Magnet's unique Full Circle Service to give you complete peace of mind at every stage.
Magnet have 200 showrooms, and in the North West have several such as Aintree for Kitchens Liverpool, Bolton for Kitchens Manchester, Bromborough and Chester for Kitchens Wirral, Lancaster, Macclesfield, and them Northwich, Preston, Sale, Wilmslow & Stockport for more Kitchens in Manchester and Warrington,