Discover the latest kitchen ideas and design trends in cabinets, counters, faucets, flooring and more.
Planning a kitchen remodel? Then consider updating your space with lighter floors, grey cabinets, one-of-a-kind chairs and cozy eat-in nooks. These are just a few of the latest kitchen looks.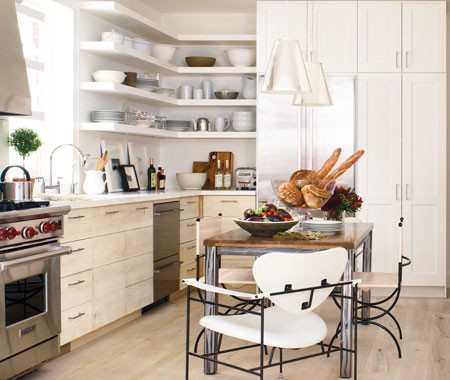 1. Bleached Ash Floors Or Cabinets
In lieu of dark tones, lighter, grey-toned woods in a matte finish add a note of rustic elegance or a European farmhouse feel. Reclaimed and bleached ash floors, for example, add character with lovely weathered imperfections. Mixing ash drawers with panelled white cabinets also turns a predictable look into one that's more interesting and unusual. CityLine designer Ramsin Khachi agrees that mixing rustic and raw materials with more polished elements is a hot trend. "In my Eurodale 2010 Dream Home kitchen, we are incorporating subtle crystal elements with natural woods, stone, high gloss finishes and varying other textures."
2. Gooseneck Faucets
Even in a traditional kitchen, these offer a sleek, modern touch. Gooseneck faucets also have more clearance, so you can easily fill pots. Many come with a spray hose nozzle, further enhancing their functionality.
3. Statement Chairs
Put the cookie-cutter wooden chairs into storage. Whether mod Lucite or leather arm chairs, unique chairs create a bespoke vibe in today's kitchens.
4. Dramatic, Oversized Vent Hoods
For efficient exhaust, look for a hood that's a little larger than the cooktop. (Exhaust hoods remove heat, moisture, grease, cooking odours and combustion gases from the air.) The larger size also results in a bigger style statement, whether in dramatic stainless steel, copper or painted out.
5. Grey Cabinets
Grey is one of the trendiest neutrals today. Grey cabinets can work with white for a clean, modern kitchen look, or contrast with dark maple trim for a tailored-glamour effect.
6. Raw And Honed Stone
Honed granite and marble offer a polished look that contrasts beautifully against rougher textures, such as brick or raw-stone walls. Injecting stainless steel appliances and laboratory-style fixtures and stools into this mix results in a warm, clean and contemporary industrial country look.
7. Horizontal Shelving
Foregoing upper cabinets in favour of modern, horizontal shelving creates an airy space with lots of breathing room. Plus, open shelving offers easy access to dishes. To continue this European-modern look, echo the shelving's strong horizontal lines with banks of drawers underneath.
8. Aged-Look Hardware
The freshest look in kitchen drawer pulls and cabinet knobs is dated. Many new models come in rustic pewter or antique nickel finishes, which can work beautifully in older homes.
9. Extra-Long Tables
In keeping with the trendy, European rustic look, kitchen tables are becoming larger and more roughhewn. Some designer homes even feature 14-foot harvest tables made from long planks, atop extra-wide wood plank floors. Install a dramatic wood, twig or antler chandelier for counterbalance.
10. Herringbone Mosaic Tile Backsplashes
Tiles laid in a herringbone pattern add another layer of texture and sheen to the kitchen, whether you choose a single colour or multiple tones. Again, this offers a very custom and sophisticated look.
11. Chic Dining Nooks
Transform a kitchen corner or cubby into a glam, restaurant-worthy dining area with an upholstered settee or bench. After all, upholstery adds softness in the kitchen dining area. A round and easy to clean, glass-topped table will keep the area from looking too heavy.
Photographer: Donna Griffith
Houseandhome.com is the website of House & Home, Canada's #1 design and decorating magazine. Published by Lynda Reeves and edited by Suzanne Dimma, two of the country's most popular style authorities, H&H takes you inside the most beautiful kitchens and unique homes across the country. You'll also find inspiration and advice to help you create the house you've always dreamed of, including dramatic makeovers, the latest furniture, fabrics and accessories, expert renovation tips, and tricks for organizing and entertaining with style.