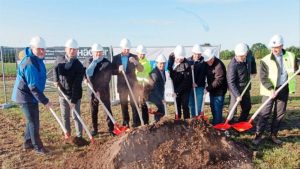 Häcker Küchen, the up market German kitchens brand has been under the radar somewhat indecent years but news has emerged that it has started construction of a new german kitchen furniture factory in Ostercappeln-Venne.
The new factory, which the company says is the "largest investment project" in its history to date and will also be "one of the most modern plants to date".
The new factory will create "several hundred" new jobs, Häcker added. "The new building in Ostercappeln-Venne gives us the opportunity to set up state-of-the-art production flows based on digitised processes," said technology managing director Dirk Krupka.
"A high level of automation will set standards in terms of process quality and productivity. In this way, we can secure and expand our competitiveness in the long term. About 450 sustainable jobs will be created, which we are already filling."
Krupka added: "We are looking for employees in the production and internal logistic processes, machine operators, truck drivers and dispatchers, etc. Commissioning of the new plant is scheduled for autumn 2020."
Häcker kitchens gained some popularity amongst UK german kitchen buyers from about 2008 to 2012 and added a couple of UK dealers but had since gone very quiet with only the Middle Eastern dealers seeming to push the brand.
News of the new Häcker kitchens factory will no doubt peak the interest of UK home owners again but as of yet little news exists as to whether Häcker will increase the UK dealer network from its one London showroom.