Uform is a well established family business and successful supplier of kitchen furniture components to retailers and installers of fitted kitchens.
Product range includes five piece PVC, polyurethane high gloss, timber, painted and stained kitchen doors in various styles and colours available to suit different tastes and budgets for its trade customers, namely kitchen furniture retailers, designers and installers of fitted kitchens which it supports via its retail support service with the Kitchen Stori Brand.
Kitchen Stori, like PWS Kitchens retail support site/brand Second Nature acts as a central marketing focal point to attract and inform new trade customers but its primary focus is considered to be the support of the current Uform Kitchens / Kitchen Stori network of distributors such as the independents that are the backbone of the UK kitchen industry.
The Uform Kitchens / Kitchen Stori network consists of some 110 distributors / independents etc and as per the "moral question" in the UK kitchen furniture industry right now, it is not thought that Uform Kitchens / Kitchen Stori compete against and undercut their network with discounted own brand sales, which in the KBB sector is seen as a significant barrier to growth and mere survival of independent kitchen retailers.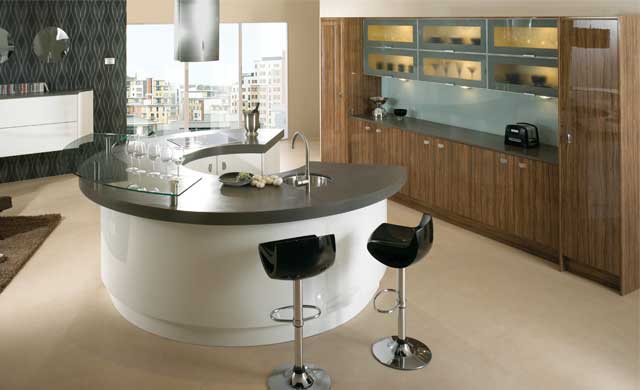 As you can see from the Curve Appeal feature from Uform Kitchens / Kitchen Stori this Ultra High Gloss White, Black, Latte and Vanilla kitchen offering by Uform offers amazing kitchen design opportunities – with the application or convex and concave doors with matching accessories. Customers can also get  arc glazed doors and flexbile panels and plinths to complete the look.
You can see in the above Uform Kitchens / Kitchen Stori photo, that the application of the concave doors and flexible panels and plinth have been creatively thoughout out in order to create a horse shoe type island, which aside from being a break from the norm, is ideal for the entertainer who likes to cook and converse with their guests at the same time. The island acts as prep area, cooking area and seating area all rolled into one and its unique and bespoke kitchen solutions like this that will help the UK kitchen manufacturing and retail industry recover from the stagnant market.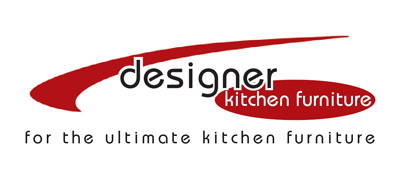 Designer Kitchen Furniture – National Home Improvement Show 2013 Exhibitor