Global furniture giant Ikea has begun construction of its new sustainable store in Greenwich, London which will mark the company's first full-sized London store built in some 13 years.
The 32,000 m2 store which is expected to create up to some 500 new jobs will feature a 1,200 m2 roof terrace with a biodiversity garden and is due to open in winter 2018, with the furniture retailer investing £100m in the new store located on the Millennium Way retail park which already features home improvement brands B&Q and Wickes plus retailers John Lewis in the shadow of the O2 Arena (once the Millennium Dome) in an area of London that has seen nothing short of explosive growth in the last 5-10 years.
The store will incorporate "multiple green technologies", including photovoltaic panels, rainwater harvesting, greywater treatment and renewable materials for construction. The store will also offer its furniture take-back scheme and a dedicated 80sq m space to "help support customers to re-use, recycle and re-imagine products that they already own".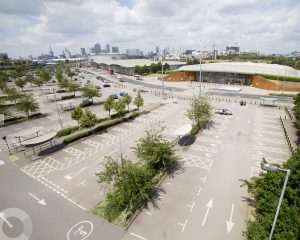 "I am delighted to be involved in such a landmark groundbreaking and look forward to bringing our home furnishings expertise and inspiration to the people of Greenwich and London," Ikea Greenwich store manager Jane Bisset. "As the country's leading sustainable store, Ikea Greenwich will offer a unique concept that will play a key role for our future stores in the UK."
Ikea UK & Ireland sustainability manager Hege Saebjornsen added: "Sustainability is at the heart of everything we do at Ikea. Not only will Ikea Greenwich be our most sustainable store in the country, we are also very excited that the new store will demonstrate our commitment to circular economy."
The new IKEA Greenwich store at the Millennium Way Retail Park was granted outline planning permission by the Royal Borough of Greenwich in December 2014, with matters of detail in relation to appearance, scale and landscaping reserved for subsequent approval. IKEA took ownership of the store site in September 2016.