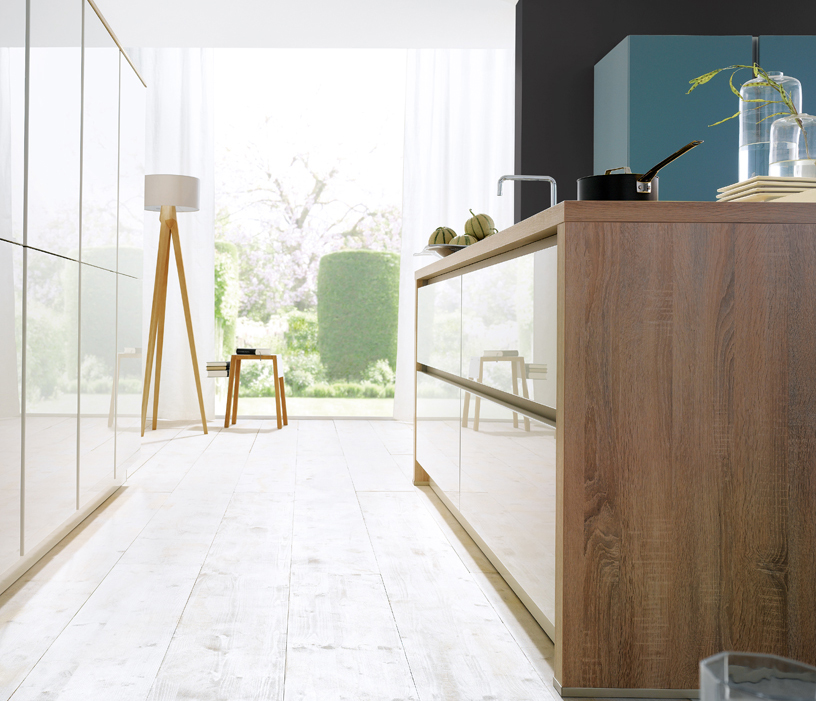 The 2014 additions to the schüller.C collection enhance an already comprehensive range. There are 16 additions to the door front collections including three major new colours in satin lacquer: sand grey, which is a natural hue, indigo blue for elegance and depth; and emerald green for a great accent colour. Indigo blue and sand grey are also available in other finishes.
Other additions to the 2014 collection include 4 new carcase colours. The updated product range now includes items such as the new cutlery inserts in natural oak, dimmable LED lights with adjustable light colours, and a beautifully shaped open shelf unit for the recess system.
Four major new ranges are included in the schüller.C collection:
•CREMONA in mountain oak platinum NB with a 100% synchronous pore is particularly appealing. The highly natural decor is also suitable for other elements of kitchen design, such as support panels, upright panels or push-fit shelves in the same finish.
•The new LUGANO front  has an elegant narrow frame. It is extremely versatile and with different selections from the 27 colour palette can range from being a purist design, a family kitchen through to an atmospheric country house kitchen.
•There are two new versions in natural knotty oak of the popular ROCCA real wood front.
•The PORTO front, a matt laminate front in price group 1, will feature the new laser edge version that Schüller will be offering from October.
From November 2013, all kitchens will have the soft-closing BLUM hinge as standard. The buffering can be switched on and off individually meaning that the closing behaviour can be set according to the weight of the front and the user's own preference.
The new cushioned opening and closing of the pull-out larger unit is another innovation and again comes as standard.
Kitchens Kitchens spoke with Schuller Kitchens specialist Shane Swift about the new Schuller additions, and how the Schuller brand was growing in the UK.
"At Lieben Der Kuche we have always been a fan of Schuller. So much so that we have reduced our German kitchens range to accommodate an almost exclusive Schuller line up, such is the growing demand for the brand."
Shane is not alone in his (informed) appreciation for the brand as the positioning of Schuller is such that it offers a high end look but mid range price bracket and with the versatile nature of the furniture it is a firm favourite of many architects.