Across various Kbb News outlets this week is the press release that this month, Wren Kitchens open 90th showroom
The 90th Wren showroom, in Forster Square Retail Park, Bradford is set to open on Friday, 24 January 2020.
According to Wren, the 14,103 sq.ft. former Mothercare unit is undergoing a complete transformation with a top specification showroom fit-out which incorporates over 40 Wren kitchen displays, plus an immersive 3D virtual reality room and an interactive appliance studio.
Whilst the showroom is a step in the right direction in offering more showroom appeal to customers the 90th Wren showroom has also created 19 new jobs.
In addition, Wren are still looking to recruit another three staff members, with roles as a kitchen sales consultant, an information advisor and design surveyor awaiting to be filled so as to join the 16-strong Bradford team.
"The build-up to opening a showroom is an exciting moment as we all pull together to add those finishing touches, so our customers are blown away when they walk through the doors," said Gary Baker, Wren Kitchens Bradford Showroom Manager.
"Our showroom will offer an experience like no other as it showcases all the inspiration you need for a kitchen renovation such as ultra-modern to edgy industrial and charming country kitchen displays. We also display an array of handles, worktops, sinks, taps, storage solutions and appliances suitable for any style and budget."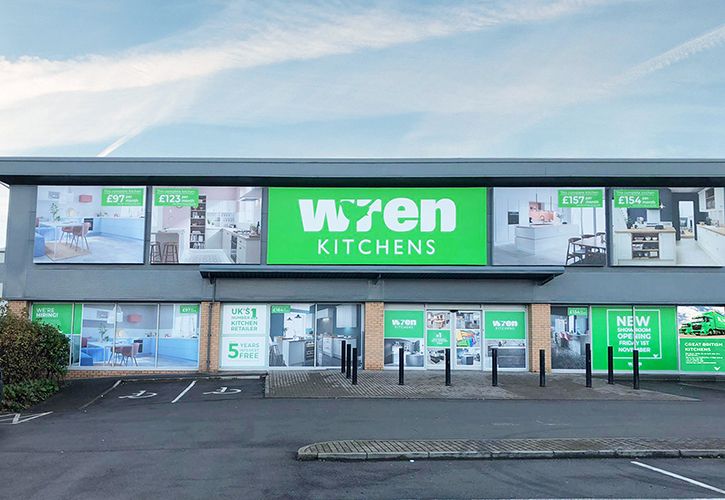 It was only back in October 2019 that Kitchens-Kitchens was reporting that Wren had opened its 85th showroom.
The 85th showroom opening (in Stockton) was the first of an all-new concept, which includes a wider interactive experience with consumers and additions such as a focus on child safe kitchens, including door safety catches and cool-to-touch induction hob plus safety tips for parents, such as storage ideas for harmful cleaning products and examples of how to keep appliances located out of reach, were also available in the new showroom format.

Wren Kitchens Stockton Showroom Manager, David Richardson., said at the time, "We're adding the finishing touches to the showroom now to ensure it has a real impact when customers walk through the doors,"
Wren Not Suffering From Brexit Uncertainty
In 2019, Wren reported a new record turnover of £490.1 million for the financial year ending 31 December 2018, an increase of 20.7% which at the time certainly signalled that Wren was not as prone to the uncertainty of Brexit that had impacted many other Kbb retailers.
However, you could argue that Wren outperforming the sector was a response to belt-tightening caused (in part) by Brexit uncertainty. Only time will tell, but if the UK economy sees significant growth, and homeowner budgets for big ticket home improvement items such as kitchens increases, it will be interesting to see if homeowners stick with the Wren product, or up their aspirations to more mid level and upper mid level brands such as Nobilia, Alno, Mobalpa and Schuller.