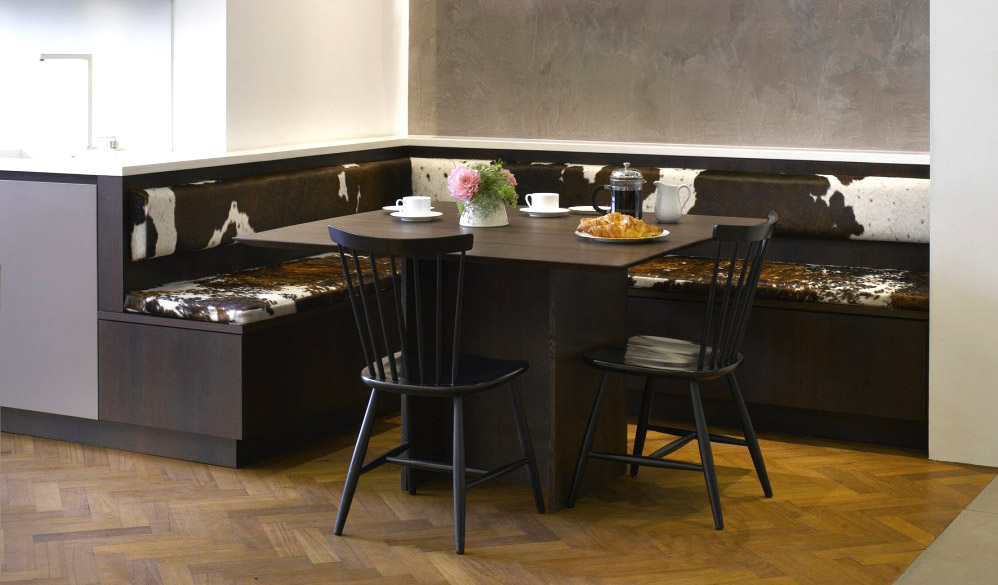 Take your cue from classic American diner design and save yourself space in the process with built-in banquette style seating in your modern kitchen design.
A banquette style seating feature is perfect if you can't quite squeeze in a traditional (longer and formal) dining table and chairs or are if you are perhaps a fan of a bit more open and informal space in the kitchen,? Banquette style seating is also ideal for larger and/or younger families if don't fancy perching at a breakfast bar or island to mealtimes, or as in the case of children too big for a high chair but too young to be sitting on a bar stool.
Banquette style seating also creates a more harmonious and integrated (informal) family dining experience where the kids can do their homework or keep themselves amused whilst chef makes the meals.
This elegant solution comes courtesy of Roundhouse and featured on Beautiful Kitchens Blog & Magazine – combining a smart bespoke Wenge table with seating upholstered in natural cowhide is a truly lovely take on this modern kitchen seating format. Not only does the banquette style seating look amazing, but the seats double as storage with practical pull-out drawers concealed in the benches.
Roundhouse are independent British designers, architects and craftsmen whose approach is to embrace the house & home and the whole creative process – from concept to completion. They create stunning, beautiful British furniture, made to measure and their manufacturing process bridges the gap between centuries-old traditions of workmanship and the latest technical innovations. UK kitchen manufacturers are in short supply but Roundhouse are independent British designers through and through.
"At Roundhouse we make beautiful bespoke British kitchens, wardrobes and other furniture.  What we design is a space for living" – see roundhousedesign.wordpress.com for more details…