In new Kbb news, Luxury appliance brand Novy has officially opened its new London Experience Centre which is located in the heart of Kitchens in London, Wigmore Street.
The new Experience Centre in Halcyon Interiors on the renowned Wigmore Street, London will serve as a training centre for premium innovation partners of the Luxury appliance brand Novy.
Additionally, the centre is anticipated to boost engagement and brand awareness via Novy's premium partners such as residential architects and interior designers in a bid to assist those partners engage with their own users and clients using the Novy brand.
Novy is best known for its luxury range of extractor hoods, worktop extractors, hobs and kitchen lighting.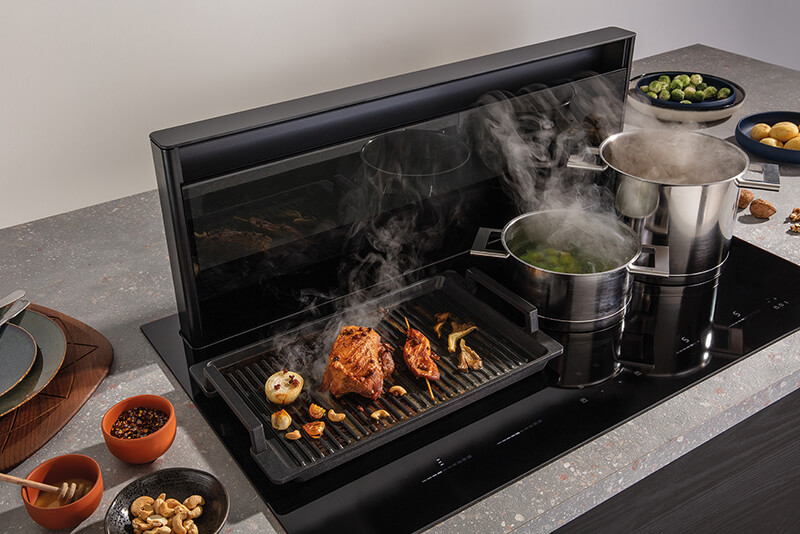 The opening of the new Experience Centre saw was a launch event for the brand's current network of premium innovation retail partners, as well as a selection of VIP guests and was hosted by Iskender Diker and Jenny Hyatt, namely the commercial director and sales and marketing director of Novy's parent company, Middleby Residential UK.
Attendees to the official opening got to experience cooking demonstrations by Novy's executive chef, Dan Britten, a Tante Marie graduate and BBC MasterChef quarter-finalist.
In addition to Dan Britten's cooking demonstrations attendees were able to benefit from an up-close and in-person peak at Novy's comprehensive product collection.
Also on display in the new Experience Centre was the new AGA ERA, the first-ever glass model released by the range cooker heritage brand, with AGA having been acquired by Novy's parent company in 2015.
Novy itself was purchased by the Middleby Corporation back in 2021 and of the event Novy's sales and marketing director Hyatt said the following:
"We are delighted to have launched the Novy London Experience Centre at Halcyon Interiors on Wigmore Street and to present Novy's latest collection of luxury built-in appliances together with models from its Designer Lighting Collection."
"With the widest range of Novy products on display in the UK, this will be our central London training centre for Novy's Premium Innovation Partners, architects and interiors designers. We are very proud to have the luxury Novy brand as part of the Middleby Residential family and we are so pleased to have made the investment to bring Novy to Wigmore Street."
In other Kbb News - Are you making the most of your Kbb Marketing?