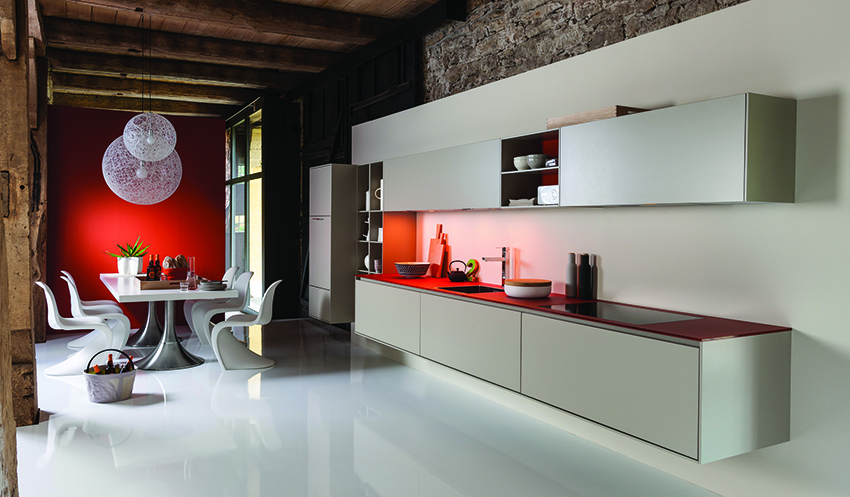 It's a much overlooked element in modern kitchen retailing, but it's vitally important that any kitchen brand, small or large gets its showroom presence right.
First impressions count and when consumers are looking for a new kitchen, it's not just the designs that are being inspected, but the company, its workmanship and its attention to detail.
We have long maintained that customers will look at poorly planned and installed showroom sets and think "hmm, if they can't be bothered to get their showroom furniture right, what chance have I got?"
However many beautiful designs you pore over on websites and in kitchens magazines, nothing beats visiting showrooms to get a sense of feel for the kitchen. Rather than just looking at a 2D image you get to look and touch the kitchen and get a sense of whether it is what you want, seeing it up close and appreciating the kraftmanship.
So, if you're in the market for a new kitchen, you may be interested to hear that Abingdon Furniture Gallery are having an Open Day on Saturday 7th September.
The Abingdon Furniture Gallery showroom
They offer a range of distinctive kitchens from Germany, Italy and England, in three, very different styles. Modern styles from Warendorf, contemporary Italian design, from Linea Quattro and hand-crafted kitchens from Charles Yorke.
Jean-Christophe Novelli will be there, carrying out some cookery demonstrations and there will be experts on hand from all the major UK kitchen suppliers, including Miele, Gaggenau and Siemens.
If you are interested, for further information, please call Abingdon Furniture Gallery, on: 01235 558000, or visit their website.
About Abingdon Furniture Gallery
From the www.afgk.co.uk website
"The team at AFG has almost 100 years of combined experience specialising in the design and installation of premium kitchens to a discerning, global customer base. We began in the UK as the sole supplier of the highly acclaimed Warendorf brand – formerly Miele Kitchens – who's range also boasted the fresh thinking and stunning designs from Philippe Starck, marketed under the 'Starck by Warendorf' name. Our success in promoting this premium German brand into the UK has enabled us to expand our product range to encompass two new high quality kitchen ranges from two very different manufacturers – Linea Quattro from Italy and Charles Yorke from England.
Both of these brands retain the high quality craftsmanship that AFG has become renowned for but enables us to offer a broader portfolio of styles, materials and functionality to cater for all tastes.
To complement all our kitchens we offer a huge range of modern appliances from premium manufacturers as well as innovative award winning lighting and storage solutions, all designed to make the most of the space available and create a truly bespoke solution.
Our impressive 10,000ft2 showroom is one of the largest in the UK and covers two floors offering a large selection of full kitchen concepts on display along with lifestyle areas, designated cookery demonstration facilities, a design studio and a vast choice of complementary products such as tiles, radiators, taps and sinks. Everything you could wish for in order to create the perfect kitchen environment in your home.
In addition to our premium kitchens, we have also opened SCW Interiors within the showroom now offer stunning bedroom, lounge and occasional furniture along with a full interior service covering wall coverings, fabrics and lighting to truly set your home apart and create a look that is anything but standard."
If you are interested, for further information, please call Abingdon Furniture Gallery, on: 01235 558000, or visit their website www.afgk.co.uk