The rise of smart home technology in the kitchen continues as a survey reveals the kitchen has been voted as the second-highest rated room in the house for smart home technology.
According to a new survey by Sellhousefast.uk, some 53% of consumers see technology in the kitchen as the second-highest rated room in the house for smart home technology, with the living room getting 72% of the vote.
Bathrooms came in second-to-last place with just 13% of homeowners viewing smart home technology as most useful in that room of the house.
The research – in which some 946 UK households were questioned – also concluded that some 22% of consumers are interested in smart taps with water temperature and motion sensors, while 10% want a digital fridge with built-in camera.
News that fridges with a in-built camera's have posted drunken or morning after hangover photos of owners in various states of inebriated shame raiding the fridge are yet to surface – thankfully – but it is only a matter of time.
Programmable digital showers and shower heads with in-built speakers and LED lights also made the list with 12% and 11% of consumers, respectively, stating their interest, according in such smart home products.
"The growth of smart home technology over the last few years has been phenomenal," said Sellhousefast.uk managing director Robby Du Toit. "Despite Brits being initially sceptical towards the technology, improved understanding and more affordable pricing has given smart devices greater appeal.
"This research certainly shows that Brits are beginning to have a firm grasp of the smart technology they desire and would be willing to actively use in their home."
Du Toit added: "Looking into the future, with the integration of smart home devices expected to become a real incentive for prospective buyers/renters, the technology could play a fundamental role in increasing the overall value of properties."
SMART home technology use devices connected to the Internet of things (IoT) to automate and monitor in-home systems. The term stands for Self-Monitoring Analysis and Reporting Technology and has exploded in popularity in recent years.
From security cameras and door entry systems to smart lights, connected speakers to watering devices for your plants or pet feeders the growth in smart home technology has produced some great products.
Here are some of the most popular smart home technology products.
Nest Thermostat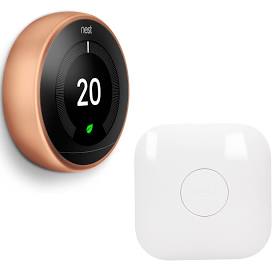 Nest's first smart home technology product, the learning thermostat, looks sensational and works like a dream. You can twist the dial to turn the heating up or down and click the screen to adjust settings, or do it all from the iPhone or Android app. It connects to your boiler and controls heating and hot water and also works with Alexa or Google smart home technologies and connected speakers.
Philips Hue Starter Kit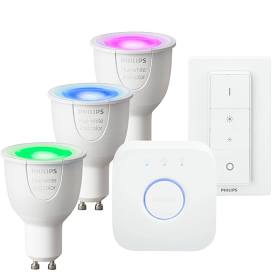 Philips was the first company to create smart lighting and remains at the forefront of the technology. Its Philips Hue Starter Kit retails at about £170 and gives you a bridge unit that connects to your router and three bulbs which can be white only or have white or millions of colours.
You can set schedules or turn the lights up gently in the morning to wake up to a sunrise effect, or if you go on holiday you can programme them. Even if you forget to turn lights off – or on – or to programme them, you can manage this all from your smartphone.
Nest Hello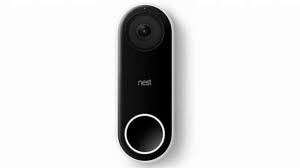 Nest Hello is a video doorbell.  When a visitor presses the doorbell, your phone rings and, if you have Google Home, you'll get a voice alert on the speaker as well as hearing the doorbell ring. Even when someone is loitering nearby and even if they don't press the button it alerts you.
There is a microphone and speaker, so you can speak to your caller from wherever you are or leave instructions for deliveries.
It has 24/7 streaming, you can check in at any time from your devices, or you can go back and look at a 3-hour snapshot history to see what happened. There is also the Nest Aware option which continuously records what's happening, 24/7, for up to 30 days, albeit at a cost of £24 per month. There is a cheaper option for 5 days of continuous recording.