At a Proceeds of Crime Act hearing last month "Kitchen gangster" Vance Miller was ordered by a judge to pay more than £2.3m within three months or risk facing eight years in prison.
The order against Miller preceded the recent jailing of several others connected to the 'fraud' and 'consumer protection' case in which Miller's operation sold cheaply made Chinese kitchens that were mismatched and damaged instead of the 'last year's B&Q' stock it advertised in its online marketing campaign.
Miller was not present at the hearing, and is believed to currently be in Java, Indonesia while wanted on fraud charges. Last year, six people who sold "shoddy and unusable" kitchens on behalf of the Rochdale businessman, mainly in the areas of Oldham and Rochdale, were jailed.
Maple Mill
For many years, Maple Mill in Oldham has been somewhat renowned for its links to Miller and his various kitchen operations, which often used a vast array of low quality websites and advertising with the promise of 'cheap fitted kitchens'.
Despite Miller being barred from holding a directorship it was confirmed in court that he held the reigns at a number of operations that ultimately came under the control of the Maple Mill premises.
David Hourigan, 41, of Ramsey Drive, Bacup was jailed for 18 months, while Martin Sersen, 24, of Jacob Bright Mews, Rochdale was jailed for 15 months.
Miller's alleged ex-girlfriend Nicola Brodie, 39, of Churchill Street, Rochdale, was jailed for a year, kitchen salesman Richard Brundrett, 41, of Peel Drive, Bacup, was handed a nine-month sentence and according to Rochdale Online, Miller's online marketing campaigner Matthew Leak, 23, was jailed for four months for his part in the scam, which included posting fake reviews online.
In related cases fellow Maple Mill workers Kelly Dobson, who had responsibility for customer services, and Anthony Eddlestone, who 'effectively' ran a showroom, were also jailed after being found guilty of conspiracy to defraud.
Steven Ford, 28 who ran S&F Home Solutions from an address in Rochdale between October 2014 and February 2015, was also jailed for 9 months. At his trial sentencing Judge Michael Leeming said S&F Home Solutions was part of the same Maple Mill operation, run on behalf of  Vance Miller.
The court heard that from 2010 to 2015 the Maple Mill operation involved the deliberate and dishonest selling of low quality 'worthless' Chinese-made kitchens, with poor aftersales service and misleading claims.
At the time, Miller was not on trial; however, a warrant for his arrest has remained in force since he failed to attend court in York in 2013 on accusations of conspiracy to defraud and fraudulent trading relating to allegations that "poor-quality kitchens and fittings were passed off as luxury buys", the Manchester Evening News had said.
In the recent hearing, judge Michael Leeming QC ruled that Miller had a "criminal lifestyle" and had reaped £2.36m through his "criminal conduct", adding that the 117 people who have lodged complaints about kitchens so far "stand to share £223,703 in compensation", though the number of complainants is expected to rise as Trading Standards acting on evidence gathered from 300 complaints from angry customers.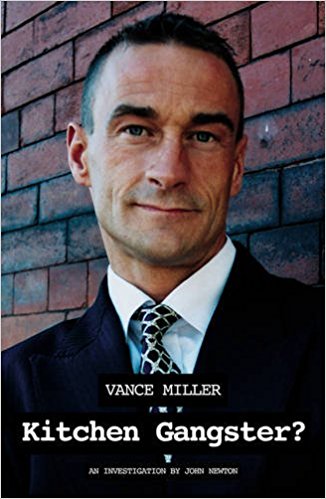 'Kitchen Gangster'
Miller garnered the monicker "kitchen gangster" after being featured in the 2004 BBC series 'Saturday Kitchen Gangster' and a Channel 4 show called Brits Get Rich in China.
Mr Miller was issued with a Stop Now Order back in 2002 by the Office of Fair Trading,the first to receive such an order; after his customers at the time complained about shoddy kitchens and missing parts and in 2003 he was jailed for breaching the order after a further 180 complaints were made against him. He then received a suspended sentence and a £90,000 fine in 2008 for more breaches of the order.
Too Good to be True
It is still astonishing that after years of selling poor quality kitchens and the numerous online reviews that have afford Miller his reputation that even when a plethora of basic 'internet' companies were set up, that so many people didn't stop and think 'hang on a minute, is this too good to be true?'.
Even looking at the lowest end of the market, such as B&Q and Howdens, which Millers operations were quoted as saying to their customers that the kitchens on sale were 'last years B&Q', or 'Howdens', 'but cheaper…' it is still baffling that so many people, literally thousands of people all bought into the hype and fell for the con.
In no way are Millers and his subordinates actions being justified here but one has to look at Millers operation in the same light as any other con, be it online or otherwise in that the degree of sophistication used wasn't great. The websites and the adverts were all quoted as being 'cheap', the sales pitches 'aggressive' and the bad online reviews 'plentiful'.
Alarm bells were ringing loudly but the lure of a 'bargain' was too much for so many that they failed to do even the basic of checks.
When you consider that a Vance Miller site suggests that Miller's Maple Mill operation was selling 'last years B&Q' kitchens in the region of £900-1500 why on Earth people just didn't buy from the actual B&Q is nothing short of astounding.
When you consider that a B&Q kitchen is what it is in terms of quality, why not just buy the actual B&Q kitchen and perhaps take advantage of interest free offers all knowing that B&Q are a reputable retailer that you can get some recourse from if things do go wrong?
B&Q kitchens have a place in the market and yes they are cheap but why take the risk of going lower than B&Q? It can and as proven, it does end in tears.
The 'Kitchen Gangster' and many more like him can only exist if consumers do not do their due diligence before parting with their money.