Ideal Standard has announced that it has expanded and redefined its showering range, in order to help customers to find their perfect shower systems to better match the individual needs of their homes.
All of Ideal Standard's thermostatic shower systems are fitted with the brand's Firmaflow Therm cartridge, which gives the user precise temperature control, high durability and efficiency.
Each shower unit is also equipped with Ideal Standard's Cool Body technology, a safety feature which keeps the exposed, external surfaces of the shower cool to the touch, thus reducing the potential for scalding. 

All of Ideal Standard showers also boast integrated eco flow regulators, which allow users to cut-back on water and energy consumption but without cutting down on the overall shower experience. All new models are also compatible with Ideal Standard's range of Idealrain showerheads, which provide a spectrum of spray modes that spans from invigorating to relaxing.
The expanded shower range is split into three themes: Design, Comfort and Fresh.
The showers in Design are characterised by their deluxe designs, including extra-large showerheads and stylish flat surfaces. The showers within Comfort have been created with "safety, durability and comfort" at their core, offering hard-wearing showerheads as well as the option to easily flick between three different spray modes. Fresh, meanwhile, blends technology with aesthetics, with "small but important design touches" integrated to offer the user an impressive experience time after time.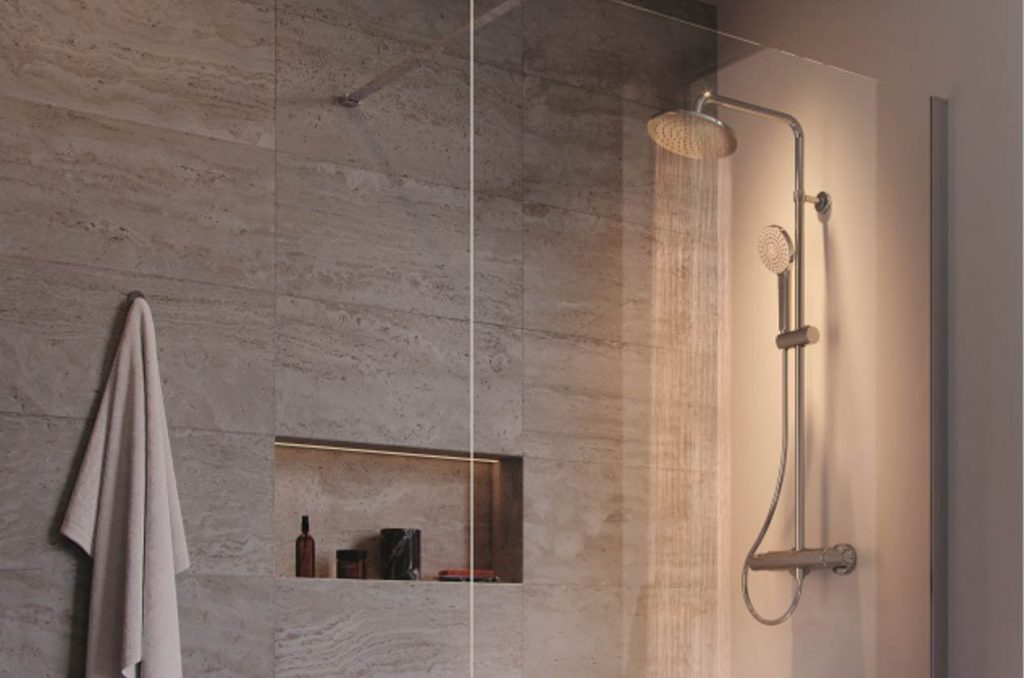 Installation for the showers in the range is said by the company to be hassle-free, with streamlined designs and common connections keeping things simple.
Speaking about the expanded range, Ashley Smith, UK product manager for brassware at Ideal Standard, commented: "Everyone has their own distinct idea of the perfect shower – from temperature and pressure to position and spray mode, not to mention how it looks. We understand how personal it is, which is why we're offering a different choice for every need with Design, Comfort and Fresh. With a range of styles and features, all backed up by faultless engineering, we're confident our customers will be able to find the shower with the look and technology they'll love – day in, day out".
Who are Ideal Standard?
Headquartered in Belgium with some 10,000 employees worldwide and revenues of some €800m per annum Ideal Standard are a multinational bathroom fittings, plumbing fixtures, sanitary ware and showers manufacturer with well known brands including Armitage Shanks, Ceramica Dolomite, Porcher, and Vidima. They are also multiple recipients of the Red Dot Design awards for innovation.
In the UK, the business director at Ideal Standard, John Robinson is also an ambassador for the brand and when considering his 30+ year career in bathrooms spent at Ideal Standard, it isnt difficult to see why Mr Robinson is also the president of UK Bathroom Manufacturers Association, whose membership account for some 80% of the UK bathroom market by value.