HiB new FOLD mirror. The well known bathroom product supplier has unveiled a new mirror, showcasing a new illumination feature that it says enhances its practical use and style.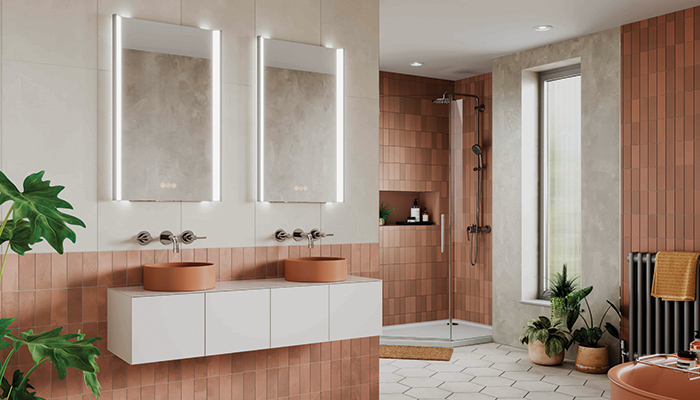 The new HiB Fold mirror features distinctive illuminated edges that can be angled to a desired position, focussing the LED lighting on the subject or outwards to brighten the space. The moveable feature offers users the flexibility of a more direct task light, ideal for everyday activities or an appealing ambient light for creating an atmosphere. As well as the unique illumination position, the mirror also features dimming capabilities and colour temperature changing technology, so the user can alter the light's brightness and tone to suit their particular needs. 
Operated using a touch switch, the mirror also benefits from a heated pad, which reduces condensation on the mirrors surface after a hot bath or shower.
Talking about the new Fold mirror, sales director Ash Chilver said: "Fold takes the flexibility and practical use of precise LED illumination to new heights, making it an adaptable and practical focal point in the bathroom. Its sleek, understated style with the adjustable lighting is perfect for a wide range of bathrooms and it really offers something different which customers can enjoy using."
From humble beginnings in 1990 HiB founder Warren Ginsberg started HiB selling bathroom mirrors from his North London home. The next 2 years saw a dedicated distribution centre in the Midlands and the company's first HQ in East Barnet. Fast forward 10 years and the business is now in national retailers and the business purchases its own delivery fleet.
Throughout the early 2000's the company continued to expand and now move into the export market, plus every 3-4 years would move to a new, bigger distribution centre which today is the 85,000 sq/ft National Distribution Centre in Tamworth.
HiB has certainly been an innovator in the bathroom sector for the last 30 years and with HiB new FOLD mirror available in H80 x W50cm, H80 x W60cm and H60 x W80cm options (RRP: £ 399.00 – £ 479.00) from retailers including Victorianplumbing.co.uk, 2022 is sure to be another great year for HiB.