Miele is sponsoring and presenting an event for the World's 50 Best Restaurants in Barcelona, Spain on the 27th June to mark the list's 15th anniversary, bringing together five 'superstar' chefs for a "unique day of gastronomic discussion and celebration".
The World's 50 Best Restaurants list provides an annual snapshot of the opinions and experiences of over 1,000 international restaurant industry experts. It is a globally recognised gastronomic reference point which showcases leading trends and highlights great restaurants from all corners of the Earth.
What constitutes 'best' is left to the judgement of these trusted and well-travelled gourmets. There is no pre-determined check-list of criteria, but there are strict voting rules.
The World's 50 Best Restaurants' voting process and results are subject to independent adjudication by world-renowned professional services consultancy Deloitte
Ferran Adrià, René Redzepi, Joan Roca, Massimo Bottura and Daniel Humm – whose restaurants have all been named number one in the World's 50 Best Restaurants list over the last 15 years – will each outline their "personal vision for the future of gastronomy" at the event's forum on June 27th.
A celebratory "gastronomic feast" will then take place at the Bravo24 restaurant in the W Barcelona hotel, hosted by Adrià. "We cooperate with many top chefs around the world," said Miele marketing and sales executive director Axel Kniehl.
"Our common goal is the passion for excellent food and the ambition to share culinary expertise with food lovers worldwide," Kniehl added. "Therefore it is a pleasure for us to partner with The World's 50 Best Restaurants."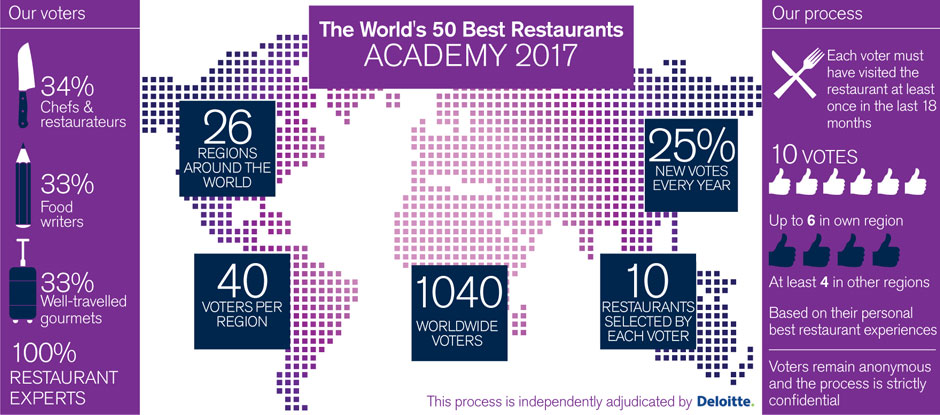 The World's 50 Best Restaurants Academy is the mechanism used to create The World's 50 Best Restaurants list.
None of the employees of any of the sponsors associated with the awards votes or has any influence over the results.
The Academy is comprised of over 1000 members, each selected for their expert opinion of the international restaurant scene.
To create the Academy, and give it a fair representation of the global restaurant scene, we divide the world up into 26 geographical regions.
Each region has a chairperson appointed for their knowledge of their part of the restaurant world. These chairs each select a voting panel of 40 (including themselves) – ensuring a balanced selection of chefs, restaurateurs, food/restaurant journalists and well-travelled gourmets. All voters, aside from the Academy Chairs and Vice Chairs, must remain anonymous. A minimum of 25% of the panel is renewed each year.