As part of this week's Kitchens Kitchens theme, discussing colour in the kitchen we thought we would offer some perspective to the debate in that whilst nowadays you can have more colour choices than ever, that with colour comes responsibility, and to demonstrate this point let us introduce this monstrosity from Smeg.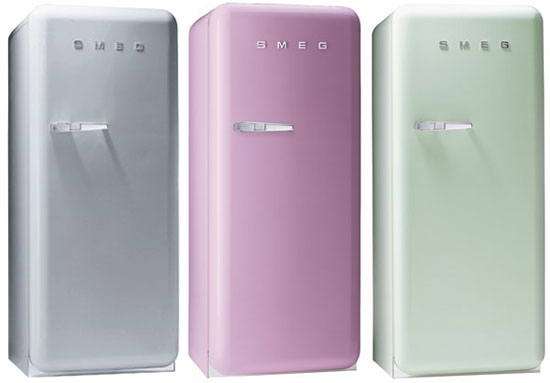 The write up from Smeg says: "The new focal point of your pink kitchen, with its baby pink finish, the Smeg FAB28YRO1 is sure to brighten up your kitchen. It's something really unique. You're also getting a super efficient appliance too. It's rated A++ on the energy efficiency scale and will cost just £22.50 a year to run- you can spend more money filling it up. It has 222 litres of space as well as a handy ice box. It's great for storing the odd tub of ice cream.
There's not much out there to rival the Smeg FAB28YRO1. Finished in pink, it'll look great in a quirky kitchen, and be sure to brighten up the room. It's really energy efficient too. Rated A++ on the energy scale, it'll cost an average of just £22.50 a year to run- loads cheaper than an older less efficient model. You'll save money on your bills if you're upgrading to this model, so you can spend more filling it up.
Inside you've got 3 shelves, so you can easily separate your cooked food from your raw food. There's even a handy wine rack to store your favourite tipple. At the bottom you've got a salad drawer- it's great for stopping fruit and vegetables from getting squashed by bulky ready meals. The door storage is really useful too. There are 4 compartments including a covered shelf -perfect if you buy a lot of smelly cheese as the odour won't spread.
This model even comes with a 26 litre ice box. It's great if you've run out of space in the freezer for a tub of ice cream.
Thanks to its Auto Defrost feature, you'll never have to waste time scraping ice off the back wall. The fridge will automatically melt it and drain it away, so you won't have to do a thing."
Aside from the colour, the Smeg fridge is as the sales write up suggests, efficient and up for the job at hand and whilst consumers can have more choice in respect of colours in the kitchen, there is an argument to say that just because you can have something, that maybe you shouldn't?
Kitchens Kitchens spoke to Kitchen Colour Maestro, Jordan Green of Designer Kitchen Furniture in Manchester who is leading the march of Colour, using his own manufacturing facility to make bespoke kitchens in any colour possible.
Green said: "From the image that Smeg has released this Retro fridge looks more like a pinky shade of purple than an outright pink but online images can be dramatically different to the real thing owing to screen contrast and how the image has been treated in editing software like Photoshop but with Smeg also doing a Candy Stripe colour, it's likely that this pink fridge would have colour connoisseurs divided equally in admiration and scorn."
On the use of pink in the kitchen Green added:
"Believe it or not we have done a pink kitchen for a customer, but one thing I would say in respect of choosing any colour is to consider the effect of colour when the time comes you want to sell your home as it stands to reason that the more individual and unique (or quirky) the colour choice, the fewer the amount of people will like your colour choice come putting your home on the market and that perhaps you should consider buying door fronts in a more neutral tone at the same time so that when you do decide to move home, you can just swap the doors.",
He added; .."we used the Russian Velvet 4 Pink Dulux 30RR15/375 in one customer's design which is a deep pink and the overall design wasn't as dramatic as people may first think but as yet we haven't been asked for a Princess or Cerise Pink but I suppose it's only a matter of time ha"