Bettaliving are a nationwide Kitchens, Bedrooms and Bathrooms retailer with some 400 outlets across the UK. One has to wonder what Nigel Jacobs, managing director of appliance importer Euroline, would make of Bettaliving seeing as he claimed that any nationwide retailing brand with more than 200 stores needed to offload stores to stay afloat.
He was quoted saying "I read recently that if you came into the UK for the first time and wanted nationwide coverage you'd need roughly 70 stores, which would give you access to 80% of the population. So when you see a company like Comet with 200 stores it's clearly top heavy. Some must be competing with each other, plus they have the internet sites."
With 400 stores Bettaliving certainly fit the profile for Jacobs comments and looking at the company website you do notice that their news hasn't been updated in nearly a year but if you do look a little further and go to Twitter, which bizarrely, you cant do direct from their company website, you do notice that they are tweeting at least, so there is somebody home it seems.
We don't mean to pick at Bettaliving but in an industry which is somewhat on its knees you have go tot question the lack of engagement with their target audience.
Aside from the name 'Bettaliving' being born from the previous company name of Oldham Kitchens in 1994 and their head office still being in Oldham little is publicized about the company history.
Bettaliving Kitchens
Trying to find any detail on Bettaliving kitchens, such as are they flat-pack kitchens, do they import them from China or make them at a factory, what materials are they made of, etc etc etc, is just as sparse as finding any news, company quotes or otherwise which again is a little disappointing.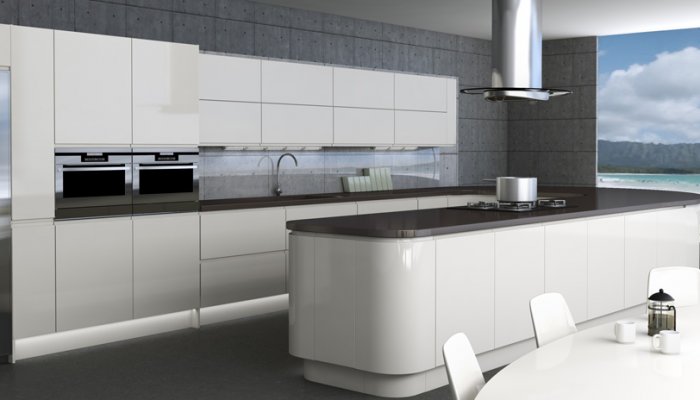 You look a the info on offer from Bettaliving and compare it to the likes of when we did a previous piece on brands such as Wickes, Harvey Jones Kitchens, Mobalpa Kitchens, Kitchen Design Centre, Kutchenarte, etc and the lack of info from Bettaliving again leaves you somewhat underwhelmed.
Wickes talk about the quality of their wood, and go to great lengths to get customers and the casual browser alike, a reason to read on, a reason to stay on the website and get informed and in doing so form an opinion and hopefully take up a call to action and with a company operating some 400 stores as Bettaliving does, you would expect more.
So then, what are the Bettaliving kitchens like?
Whilst we can't comment on the quality or materials as they are not available, there are at least some pretty designs.
The Horizon Ivory is a nice white gloss handleless kitchen reminiscent of the German made kitchens at Hacker or Nobilia, and the Milford Ivory in-frame is reminiscent of the in-frame and shaker styles of SN Collection aka PWS but without knowing what's behind the door styles its hard to put any substance to the real question of Who Are Bettaliving? Your guess is as good as ours.