The developments surrounding the safety and risk of fire to the Whirlpool owned tumble dryer brands of Hotpoint, Indesit and Creda are gathering momentum and various news agencies are now encouraging whistleblowers to come forward to lift the lid on when the risk of fire was first known in what has now seemingly been upgraded to a 'scandal' in some UK newspapers.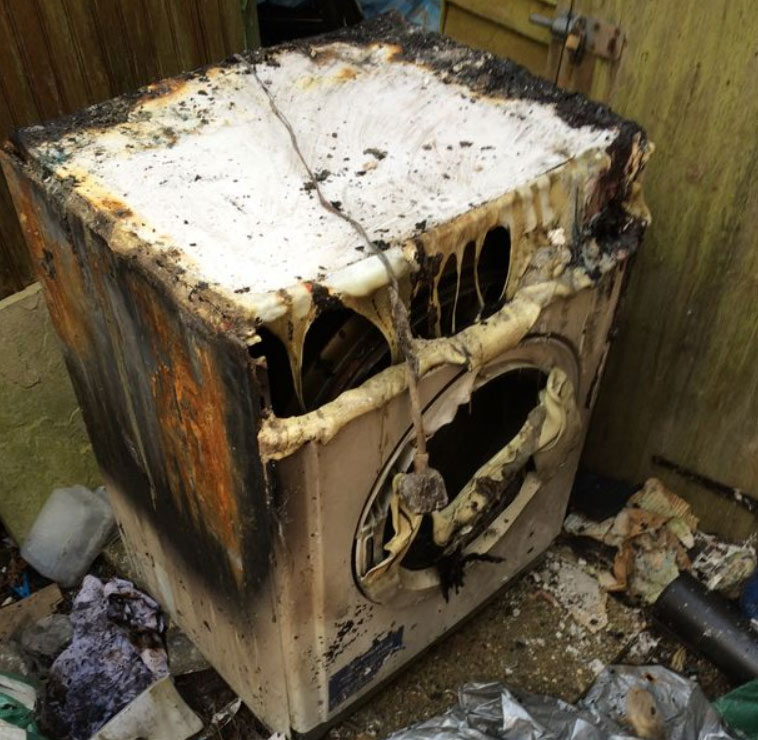 Whilst various reports put the total number of tumble dryers bursting into flames in the last six years at more than 6000 it should be noted that in the UK as a whole, fire-fighters were called out to 3,777 incidents of tumble dryer fires since 2010 alone. Furthermore, given that not all fire and rescue services responded to requests for data (i.e. only 33 of the 54 UK ­fire services responded) and in respect of the Hotpoint, Indesit and Creda dryers that the known fault dates back to 2004 it isn't hard to see that even the latest and highest figure of 6000 plus fires could still playing the issue down in terms of its scale.
Nevertheless, the headline figures are sobering as there were 270 injuries and several deaths attributed to tumble dryer fires in the last couple of years alone. However, the number of casualties is also likely to be much greater as only 17 fire brigades revealed injury data.
Consumer champion Which is suggesting that tumble dryers accounted for 1,456 fires between 2011 and 2014, that washing machines accounted for a further 1,723 fires in the same period and combined washer/dryers caused another 225 fires meaning that household laundry machines had directly caused 28% of all household appliance related fires in the UK between 2011 and 2014.

Cover Up?
With the Daily Mirror reporting that Whirlpool has refused to say when the fault was first discovered and in turn is offering support for whistleblowers to come forward it seems the cat is very much out of the bag for Whirlpool and that if it is going to weather the fall out from this 'scandal' that a more transparent and consistent strategy is needed as there are reports of some consumers getting free replacement dryers whilst others are having to pay for replacements were an engineer cannot get to certain consumers for more than a couple of months to effect a repair.
It should be noted that consumer champion Which also reported that 175 Hoover washing machines caught fire between January 2011 and March 2014.
Back in June 2015, before the scale of the now scandal was made public both Hoover and Whirlpool told Which they disagreed with Which's findings. Whirlpool brand Hotpoint said it didn't agree with their market-share figures and believes "it's inaccurate to draw conclusions from a relatively small number of incidents where the cause of fire is not always investigated", and Hoover said it cannot establish conclusions from the data Which provided.
Its seems that given the overwhelming evidence coming to light that the public can now establish its own conclusions.
Fire Safety Scandal
Until Whirlpool are seen to act against this growing fire safety scandal every news item about Whirlpool on this site will have the tag #whirlpool-hotpoint-creda-indesit-fire to inform consumers that despite all the awards and achievements Whirlpool boast about, at heart your safety isn't something it appears to put first.