Presented today at Eurocucina 2012, is the Prisma smart kitchen from Italian firm Toncelli in a collaborative project with design consultancy firm Experientia.
Running all this week and created in 1974, EuroCucina – the International Kitchen Furniture Exhibition in Milan brings together the top Italian and foreign manufacturers, with 130 exhibitors occupying nearly 27,000 square metres and the Italian Kitchen Prisma, epitomises the character, creative excellence and modern kitchen concepts that the EuroCucina likes to stand for.
Prisma showcases minimalist design integrated with exclusive and revolutionary technology, a composition of different surfaces which transmits an immediate sense of weightlessness, emphasised by the feature lights that illuminate the kitchen pieces from below. It is modular, configurable kitchen style which can be designed bespoke according to individual needs and tastes. The invisible handles, including the vertical version for the refrigerator, are exclusive to the Prisma and the interactive workbench sports a Samsung Galaxy touch-screen technology tablet computer with internet connection all coming together perfectly to create this technologically advanced and user friendly handleless kitchen.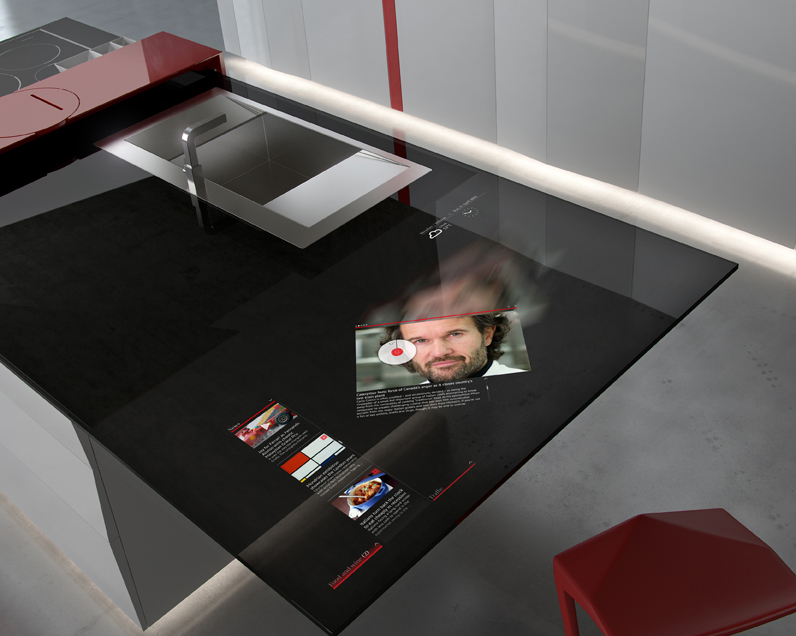 The kitchen island's work surface is where all the action's at, boasting the aforementioned touch-screen Samsung Galaxy and sleek, sliding cutting board as well which combine to deliver an interactive and engaging kitchen experience.
Toncelli is at Eurocucina 2012 with six exclusive kitchen-spaces: The Progetto50 collection; Essential Quadra (evolution of Essential and Credenza models); a contemporary restyling of Nantìa; Morning Calm, produced by Toncelli's Korean partner Nefs; and Prisma, the new technological jewel, created with Experientia.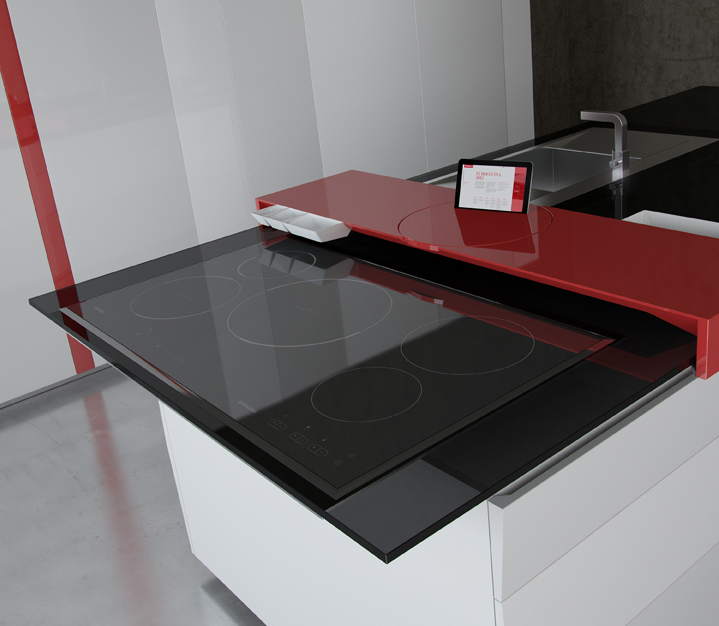 About Toncelli
Toncelli was founded in Tuscany in 1961, specialising in modern kitchens using exclusive materials. The company is a leader of style and elegance in the Italian and international markets. Lorenzo Toncelli enriched the company vision with a fundamental piece in the creative choices: Asia. The traditions and mystery of the Orient are a source of inspiration. Today, just like 50 years ago, family, personalisation and technology are the driving forces of a company vision indissolubly linked to workmanship, creativity and the courage to make audacious choices.
See the Toncelli web site here