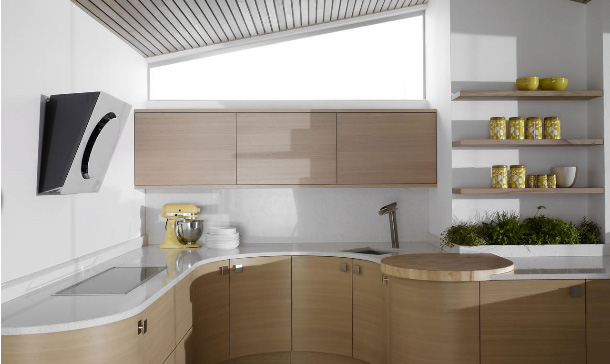 The Ripple Curve from Metris when launched a few months back was claimed to evolve the handleless kitchen concept and was given much press owing to the fact that because of its smaller scale, it particularly comes into its own when space is at a premium.
For those who really like curves but simply don't have a great deal of room the Ripple Curve is a good solution and works especially well in galley or L-shape kitchen layouts. The one metre wide drawer has a straight back making it ideal for adding shapely interest to a run of cabinets whilst not impacting on storage space.
"The beauty of the Ripple Curve drawers is their versatility," says Graeme Smith, senior designer at Metris."The flowing curved form and chamfered edge is mirrored on both the top and bottom of the drawer, so they are adaptable to be used in either direction.
"They can be planned into a uniform set of drawers to keep a continuous run, or swap the drawers around in an asymmetrical fashion to add texture and interest for a more distinctive and individual look."
Metris kitchens are priced from £20,000 and available from independent Metris retailers nationwide.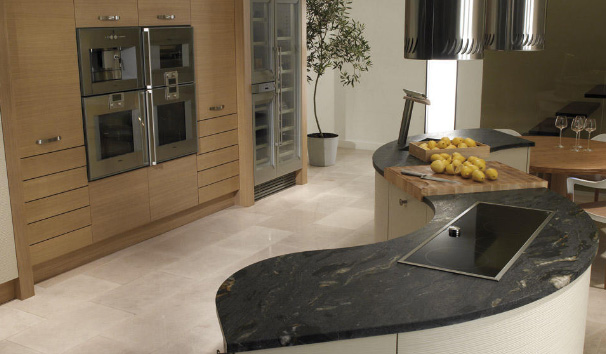 Not to be confused with Wave Curve by Metris
The Wave Curve from Metris, the Euro inspired contemporary kitchens from PWS Distributors aka Second Nature does indeed have 'Curves' in all the right places. Metris say this concept is inspired by ripples left on the sand by retreating waves, but many will see the inspiration taken from the Italian kitchens, whom PWS are wanting to re-create in their own name and sell to the UK market.
One such influence was perhaps the Wave Curved kitchen from Bontempi Italian Kitchens?
One thing to note is that whilst PWS and Second Nature are by all means nice looking kitchens, many UK independants (of varying quality) will buy in the doors and then use their own varying standard of kitchen cabintry to display the doors and reading all the bad reviews on consumer review websites, and knowing the industry, kitchen fitting is where, by and large, a customer project is won or lost and fitters needing to improvise leads to quality compromise and an unhappy customer.
With Metris kitchens are marketed at around the £20-25,000+ level, you can have a German made kitchen, precision made and factory assembled for this price level, from brands like Hacker Kitchens or Nobilia Kitchens and where quality is assured throughout, and not just to the doors?