The Silestone Institute – part of the Cosentino Group – has revealed its key predictions for the characteristics of future kitchens in a new report, 'Global Kitchen: the home kitchen in the era of globalisation', in collaboration with 17 experts in design, cooking, domestic technology, sociology, nutrition and sustainability, as well as questioning more than 800 kitchen studios.
Global Kitchen is a publication, edited by the Silestone Institute, that presents some reflections on the uses and global trends in the kitchen and its role in the home of the future. This publication is a complement to its predecessor "A 90 cm above ground" which has become a benchmark in the professional kitchen sector.
Global Kitchen is also willing to become an essential consultation tool for professionals and consumers. For this purpose, a group of internationally renowned experts in different disciplines has been invited to contribute with their vision and opinion on how the domestic kitchen of the future will evolve. A large number of kitchen and bathroom store professionals have also been consulted in Australia, Brazil, Spain, the United States, Italy, Portugal, the United Kingdom and Sweden.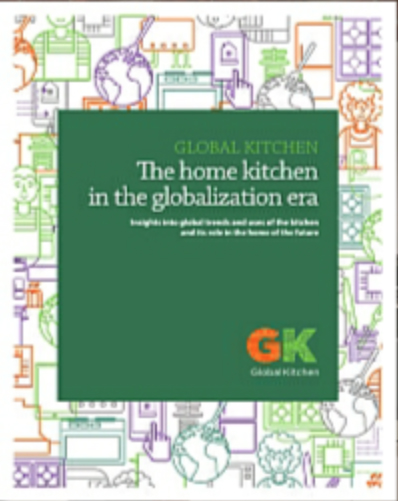 Cosentino, as a business leader well-versed in innovating and developing value-added surfaces for the world of architecture and design, wants to unlock the secrets of the home kitchen of the future with its kitchen and home research projects.
The experts have revealed that the kitchen will regain its traditional title as centre of the home, a title that it has been slowly stripped of over the decades as a result of the needs of the growing middle class (keeping odours away from the rest of the house, access to heating in all rooms, etc.) and modern lifestyles.
Moreover, it has become a space of relaxation and family leisure, even a place of work; as a result it is being integrated increasingly with the rest of the home. It is a multi-functional space and is expected to disappear as an independent room. Its design will not only take aesthetics and function into account but also emotional value, and it will strengthen its use as a space for relaxation and well-being.
According to Silestone, the report found that the kitchen is likely to be a "hyper-connected, multi-functional space for work, leisure, health and relaxation" in the future, incorporating smart devices currently associated with professional kitchens such as vacuum cooking and packaging.
Close to 45% of those questioned said they think cooking will be directly on the work surface, while 41% believe that the worktop will "integrate a control panel for appliances with access to the internet and device connection". A further 25% imagine the worktop will also incorporate weighing scales and nutritional analysis.
"Global Kitchen is an international project providing valuable insights into the kitchen of the future and aims to become an essential reference tool for professionals and consumers," said Cosentino Group marketing vice president Santiago Alfonso.
"It creates the opportunity for multidisciplinary reflection to analyse the effect of globalisation on kitchen architecture and design, to determine how this space will develop over the next 25 years," Alfonso added.
The Silestone Institute is an international platform dedicated to the study and dissemination of knowledge about the kitchen space as social and working environment.
One of its main areas of activity is the study and awareness of hygiene in the kitchen, both in public and private spaces in order to promote a healthy lifestyle.
The information disclosed by the Silestone Institute is supported by its Advisory Board, composed of experts in different areas such as food security, professional kitchen, scientific communication, cleaning products, architecture and design, hotel and catering, who put their knowledge available to consumers, professionals and society in general.
International and multidisciplinary
The scope of action Silestone Institute is international, serving as a forum to exchange views and knowledge on the subject, adapted to all cultures and civilizations. The Silestone Institute is an organization promoted by the Cosentino Group, a leading company in the production and distribution of innovative solutions for the world of architecture and design surfaces Spanish family company.
Support and promote research on hygiene in the kitchen.
In the scientific field, Silestone Institute supports and fosters research on hygiene in the kitchen and other related fields (design, interior design, etc.).
Hygiene, health and quality of life are constant needs and concerns in today's society. The hygiene of food in public venues such as bars, restaurants and hospitals is regulated and controlled by public agencies and administrations. And there is a growing demand for practical information on hygiene in the home. One of Silestone Institute's main aims is to communicate—with a didactic, rigorous and practical approach—information on hygiene in the kitchen and bathroom. Silestone Institute thus stands as an international benchmark in the field of innovation and comfort-oriented technology.
Silestone Institute operates under the following values:
Ethics: We encourage the development of a modern, advanced society without undermining fundamental ethical values.
Non-profit: We operate on a non-profit basis and independently from institutions and agencies.
Environmental Commitment: "Environment" and "sustainability" are key concepts in our efforts to promote the enhancement of comfort through innovation.
Plurality of Views: We offer a meeting place for all opinions, to encourage reflection, debate, training and dissemination of knowledge.
Accountability: We reinforce the sense of responsibility, both individually and collectively, to bear in mind that health and welfare depend on us all.
Rigor: Our research is always conducted with the highest scientific and legal standards.
Excellence: Our aim is to work with the utmost stringent and entrepreneurial spirit, responsive to society's feedback to achieve excellence.