Whilst it is fair to say that the German kitchens being sold in the UK tend to lean towards the monochrome colour palette, there are some modern kitchen customers whom do prefer to inject a bit of colour into their homes and with German kitchens accounting for nearly half of all imported kitchen furniture, it seems that brands such as Nobilia, are realising the UK's taste's more so.
Whilst for the 2012/13 seasons, Nobilia has widened its Colour Accents range of decorative accessories which enable their customers to inject some colour into the kitchen via decorative panels, storage cupboards, shelving, bookcases and all manners of other options in four distinct and bright colours, recently we spoke with i-Home Interiors of Marlow, Bucks who had a customer that wanted more than just a splash of colour, they wanted something "vibrant" and rich in colour, and here is the end result.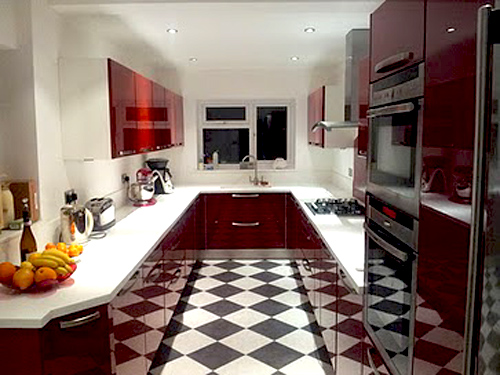 Red kitchens are quickly becoming a popular colour choice for customers looking for something more vibrant and as i-Home Interiors found out, commissioned by their customer, a Mrs DV from Uxbridge, London, both i-Home Interiors and the client felt that Nobilia`s Napoli red high gloss filled the brief perfectly and judging from the above photo, vibrant is certainly delivered and the end product is strikingly rich in colour but without seeming to overpower.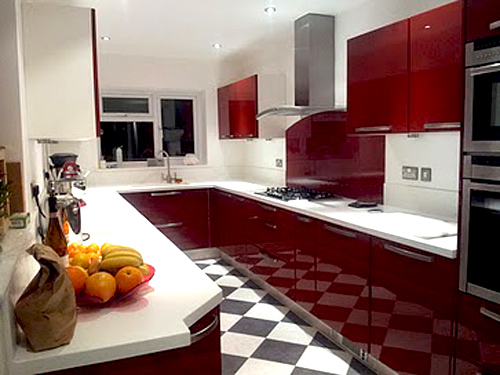 This particular Contemporary Red Gloss German kitchen from Nobilia that we designed and project for i-Home Interiors London client is indeed a perfect example of what can be achieved with this new trend for more vibrant and rich colour tones in the kitchen and its rich and reflective properties offer stark and contrasting warmth to the monotones in the floor tiles, walls and ceiling which create a lavish warmth for the eyes to feast in.
Jamie of i-Home Interiors commented "Once Mrs DV (our German Kitchens London client) was happy with the exceptional standard of our German Kitchens on offer, our designer Alex then visited her home to measure the floorspace and to get a feel for the kitchen and to better understand the customer's needs and requirements."
Jamie continues, "…as part of the `full service` i-Home Interiors via our London service offering, undertook the flooring work and we supplied Amtico tiles. The kitchen door chosen was a Nobilia 695 Napoli Red High Gloss and both i-Home Interiors, and our client were suitably impressed at the exceptional finish on this High Gloss Nobilia kitchen door."
The end client commented on i-Home Interiors "Our kitchen is eliciting raves from all who view it – Thank you again!"
i-Home specialize in bespoke German and Italian Kitchens, bathroom & bedroom design and Installation, with years of knowledge in the home design industry.