Continuing our Real Kitchens section, new to Kitchens Kitchens for 2013 is our feature in which we showcase some of the UK's real customer kitchen case studies, in an effort to both inspire consumers, and showcase some of the talented kitchen designers working at some of the UK's small to medium sized kitchen companies.
German Kitchens Uber is a German made kitchens specialist who deal with the popular German kitchen brands of Nobilia, Hacker and Schuller and this 'Real Kitchens' case study is from a customer of theirs in Liverpool.
The customer, from the quiet suburb of Woolton Village, on the outskirts of Liverpool had extended their house and wanted to create a great living space with a more modern open plan approach to the kitchen and with the extension they had built, they had more than ample room for a sizable kitchen island, which they wanted as a prominent focal point of the kitchen and to include a breakfast bar suitable for the family and also for entertaining.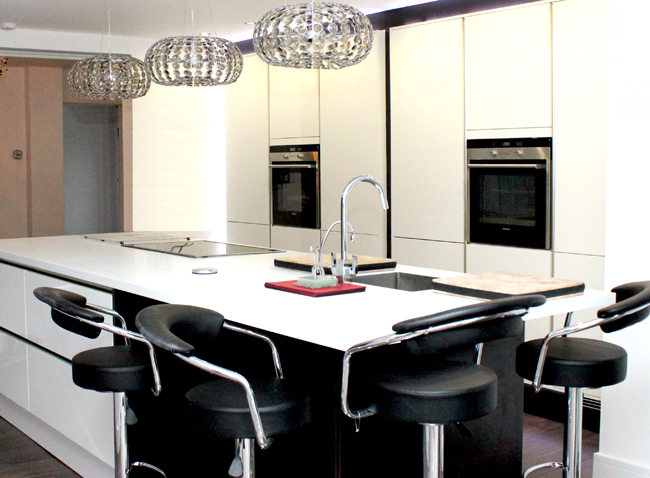 From the photo above, you can see that the main wall of this galley type kitchen layout and from left to right the rum of ceiling height units consisting of: an integrated fridge, single oven housing with built under pull out clever storage, another tall larder again with pull out clever storage, and on the second bank (near right) another tall larder with pull out clever storage, a second single oven again with built under pull out storage and then on the far right of the above photo, an integrated tall larder freezer. This tall bank provides more than ample storage fit for a big family.
With the island fairly central and the hob and sink in easy reach of one another and with both ovens in easy reach, the cooking zones are ergonomically perfect as they are in very easy reach of the food prep zone between which sits between the sink and hob, making that sweet spot the perfect chef station, where everything is so easily accessible and to hand and a credit to the designer.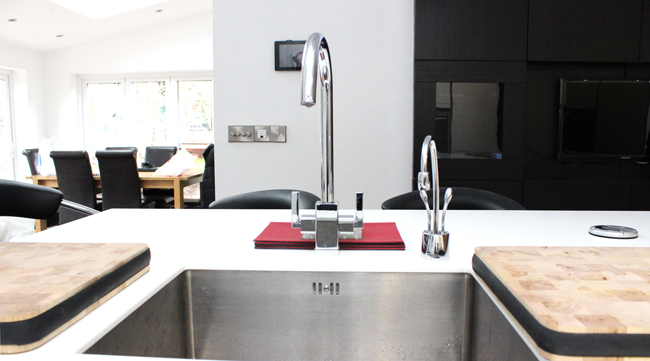 The above image shows the sink and tap which are both ultra chic, very contemporary and uber modern as per the customers remit and followed through by the designer James.
The tap is an InSinkErator Steaming Hot Water Tap and the sink housing, unique to Hacker Kitchens, is contained in a sink base unit with aluminium lining so as to prevent any damage from any water leaks which can otherwise warp the kitchen furniture.
Another typically German (attention to detail) feature is that the sink unit is already pre-cut and ready for pipe work so as to make the installation that little bit quicker and easier. As with all German manufacturing, attention to detail means less fitting mishaps and that's why the likes of German Kitchens Uber in Manchester and Warrington are doing so well as consumers are wise to the superior manufacturing process, the ease of fitting and the timely mistakes which are more commonly found in other non German kitchen brands were the fitter needs to make do with inferior fitting furniture.
The Island itself consists of a reduced depth base unit at the sink end to accommodate the breakfast bar area but without having a protruding overhang and on the galley side and far side, again unique to German Kitchens Uber through their supplier Hacker, the drawer packs are capable of storing up to 70kg in weight and with sizes up to a market leading 1200mm wide.
From the image above you can see the pure white 38mm depth Corian worktop with downdraft providing an unbroken and flawless line to the styling of the island feature.
Handless Kitchens are very contemporary and our Liverpool Real Kitchen case study for German Kitchens Uber benefits from a very subtle and easy to use, vertical channel handle system, which in conjunction with 25mm soft close hinges on the doors, makes for a very high quality finishing touch.
German Kitchens Uber have some 100 styles from the brands of Hacker, Nobilia and Schuller and all they do is German kitchens. They have a UK wide design and planning service and showrooms suitable for consumers looking for kitchens in Chester, kitchens Manchester, Warrington, and kitchens Liverpool as per the case study.
Their website is at www.germankitchens.uk.com and can be reached via phone on 01925 639973