You would be forgiven for thinking that this kitchen wasn't a real kitchen at all but a showroom showcase kitchen but we can assure you, this isn't a studio or showroom photoshoot, or a Metris brochure photo but the product of the North West's highly respected Kitchen Kraft for one of their customers in Cheshire.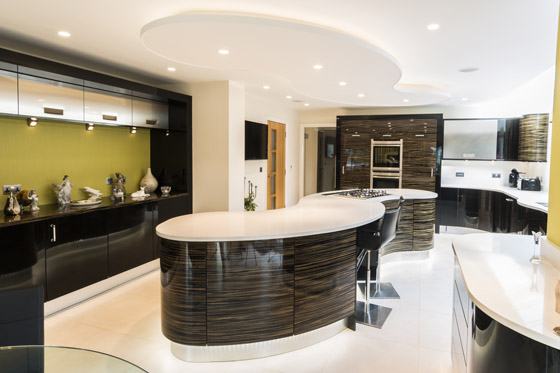 This clearly is a breathtaking kitchen and granted it probably wouldn't even fit into the entire ground floor of most semi-detached houses but aside from the huge profile of the kitchen, it also has huge presence and the signature Metris Zebrano style has been lavishly crafted to produce one of the best curved kitchens we at Kitchens Kitchens have seen in an end users kitchen.
If you look at the Metris Kitchens brochure, unlike most kitchen brands, Metris have opted for varied settings for the kitchens it is promoting and each photo offers something different, and not just in terms of the door style. Whilst Metris have obviously gone to great lengths to create those designs for its brochure, we are sure Metris would be very pleased indeed to see such a high calibre of kitchen being delivered to an end customer.
We wouldn't be surprised to see this kitchen featured on the Metris website or even in Beautiful Kitchens.
About Kitchen Kraft
They have two showrooms in the North West, one on the border of Southport and Formby, Liverpool and the second in Northwich which is in easy reach of Chester, Warrington, and South Manchester.
Design, Innovation, Perfection are the three words Kitchen Kraft apply to everything in business. A family run kitchens company that has been designing and installing the finest luxury kitchens for over twenty years in the North West, Kitchen Kraft are the North West's leading independent kitchen company.
To request a Metris kitchens brochure from Kitchen Kraft call 0800 018 0009