For this Real Kitchen Case Study, we are off to High Wycombe, Bucks, and local and well respected i-Home Interiors, based in Little Marlow, about 3 miles from High Wycombe.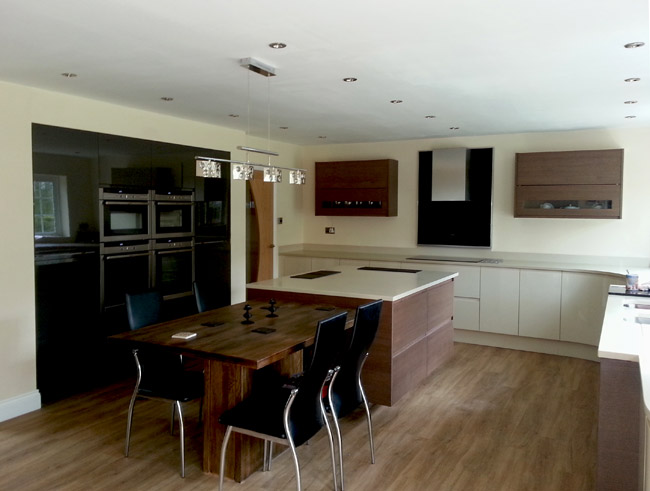 Our Kitchens Kitchens Jeff Russell spoke to Jamie Davies from i-Home Interiors about this case study, using the Burbidge brand of English made kitchens.
Jamie "Our client, Mrs Hallett based in High Wycombe, Buckinghamshire wanted a contemporary kitchen boasting some subtle curved units with an overall sleek look and so we opted for a combination of Burbidge using the; Malmo Smoked Oak, Malmo Latte Gloss and Malmo Graphite Gloss mix to give a rich and modern open plan, yet functional handle-less kitchen."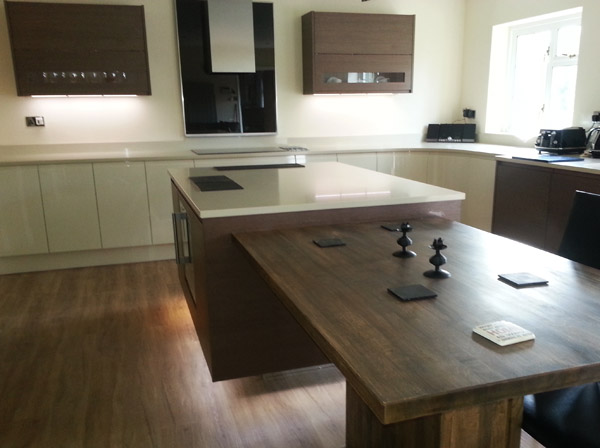 Whilst the German kitchen brands and also the Italians, (which i-Home Interiors both stock, in Nobilia and Bontempi) are renowned for their handle-less kitchen offerings, the UK brands like Second Nature and as seen here with Malmo from Burbidge are certainly giving our Euro cousins a run for their money.
Malmo is believed to be Burbidge's most popular kitchen door in a UK market that is somewhat polarised between the traditional Shaker and modern gloss handle-less styles.
i-Home combine the Malmo doors with a Creme Sparkle Quartz and Oak work surfaces and the net result is a showcase finish kitchen which in addition to the curved doors, adding subtle non linear features, the curve is continued through this modern kitchen style in the both in terms of the plinth and the solid Quartz work surface to help create an immediate visual impact.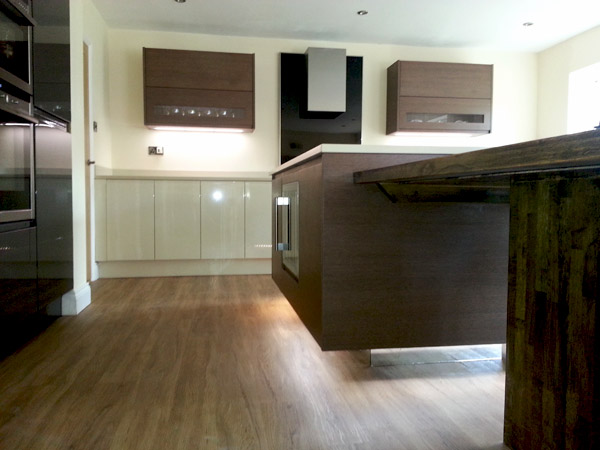 To assist giving a little 'wow' factor, a subtle Latte Gloss was used on the curved units with a dark Graphite Gloss used for the appliance wall and Dark Smoked Oak for the island and wall units which works extremely well with one another.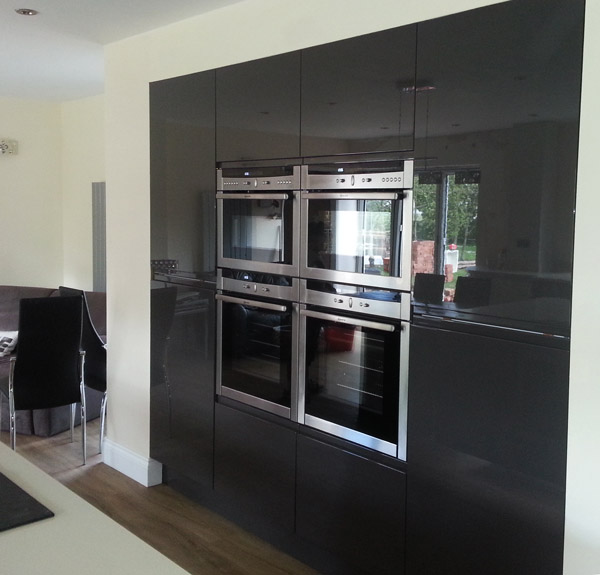 Jamie added that "An open feel was kept and the lines of the kitchen kept clean, and it was important not to overcrowd and over complicate the kitchen"
This i-Home Interiors modern kitchen for their High Wycombe, Buckinghamshire client was finished off with Neff; Microwave, Induction Hob, Warming Drawer, Chimney Hood, x2 CircoTherm Ovens, with the fridge, freezer, wine cooler, sinks and taps all supplied by CDA and finally an Ininkerator hot tap and waste disposal unit was fitted.
Kitchens Kitchens particularly love the under-lighting to the island which gives it a somewhat unique floating feel and the tall bank of recessed units housing the cooking appliances (ovens / micro / warming drawer) is a very clean and minimalist touch as the recess taken right up to the profile of the tall bank gives a real made to measure quality and the designer on this design, i-Home's Steve, has created a very stunning and workable kitchen with the right balance of colours and tones to create a great example of how to mix it up in the kitchen and not just to go with one solid colour choice.
To get in touch with  i-Home Interiors call 08448 709509 or click here