Contrary to some in the KBB sector, country kitchens are not all dead and buried and this Real Kitchens example of a classic kitchen for a customer in Putney, London, by Marlow's i-Home Interiors showcases just why some consumers still love the more traditional kitchens on offer today.
In a market dominated by European styling and with gloss and handle less kitchens so mainstream, something we do an awful lot of at i-Home (as suppliers of Bontempi and Nobilia) from time to time some clients have more period style homes that they feel is better suited to something a little more classic in the kitchen and an Ivory painted oak shaker door, skilfully hand sprayed, along with a rich grain natural oak created, created with a high degree of sanding and a special formulated finish that seals and helps to protect is exactly what one of our London clients wanted.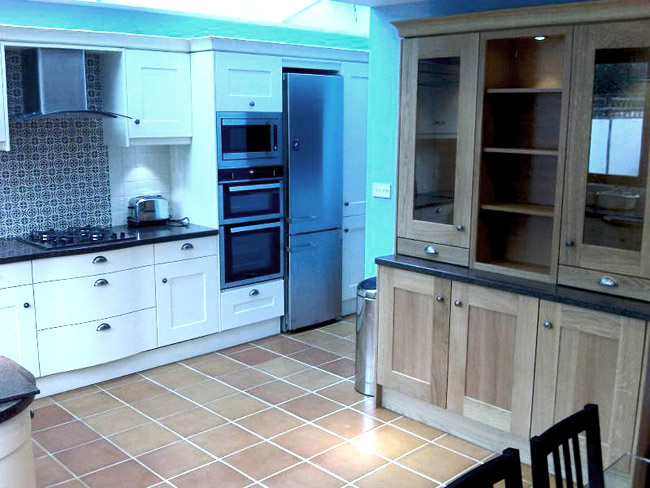 The client opted for a tiled terracotta floor combining light and dark clays in a swirling finish polished to give an easy shine which worked very well with the ivory and natural oak doors. As you can see from the above photo, the floor space couldn't accommodate an island with ease and so the main L-shape run of units and work surface create amble storage and food preparation areas and the absence of an island allows for a more open feel.
The work surface our client used was a 38mm HiMac Corian Mocha Granite colour, with a CDA under mount square cut single bowl with drainage grooves and the work surface perfectly complements both the Ivory Shaker door and the exposed wood shaker door to the dresser unit, perfect for showcasing fine china, glassware's and ornaments with cupboards underneath for a plentiful supply of recipe books.
CDA, which are a very good up and coming appliance manufacturer, was the choice for the appliances with our client opting for the dishwasher, double electric oven, four burner designer gas hob, built in microwave and extractor all being CDA products; the fridge/freezer selected was a stainless steel free standing Miele.
i-Home Interiors dealt with all aspects of the kitchen installation including tiling and decorating using our quality ensured installation and decorating teams, and as with all projects we managed the project from start to finish. An after care service was also offered and we made sure a cleaning firm was on hand after the installation to make sure there wasn't any mess for our client to deal with post fit.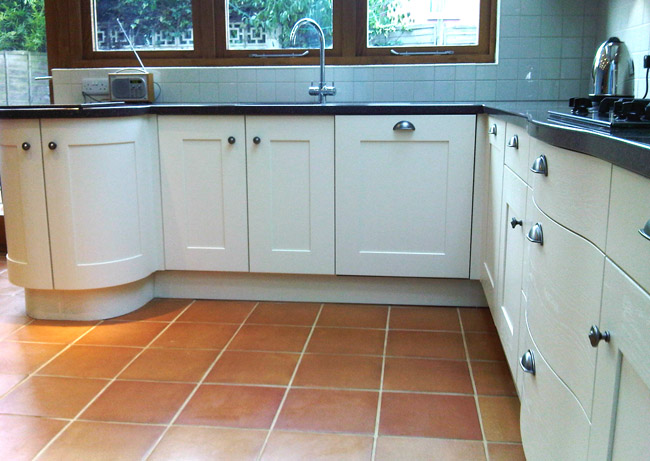 Customer Testimonial:
"I-home took on a project to redesign and redecorate our kitchen. I was very impressed with the service they offered. In the design phase they understood what we wanted and helped us to translate it into a clear plan.
The project was largely completed within the agreed time-scales despite a few days being lost to illness. The kitchen fitters were willing to work late and at weekends on a couple of occasions to make sure they didn't slip behind. The team were considerate of our comfort and made sure that we only spent the minimum amount of time without cooking facilities. The work completed is of high quality, and we are very pleased with the end result. "
Continuing our Real Kitchens section, new to Kitchens Kitchens for 2013 is our feature in which we showcase some of the UK's real customer kitchen case studies, in an effort to both inspire consumers, and showcase some of the talented kitchen designers working at some of the UK's small to medium sized kitchen companies.
To have your kitchen case study featured simple email info(at)kitchens-kitchens.co your case study and one of our team will be in touch…