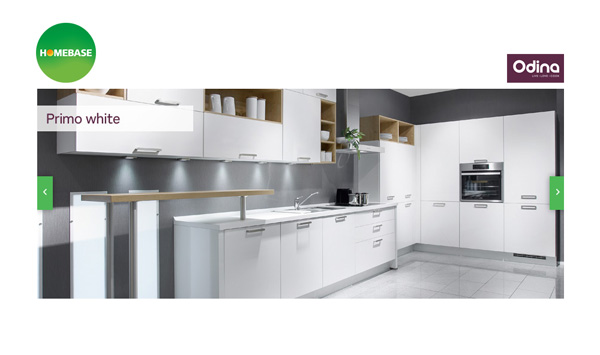 Most people in the kitchen industry know this already but Odina kitchens from Homebase are actually rebranded Nobilia kitchens, direct from Nobilia in Germany.
Homebase, part of the Home Retail Group, which also owns struggling Argos, and is the UK's biggest storecard business through its financial services arm are available throughout the UK and whilst Nobilia's UK independent distributers perhaps seemed dismayed, the Nobilia dealers that Kitchens Kitchens have spoken to have infact said that they get a lot of trade from people who have been introduced to the Nobilia brand at Homebase, but that these consumers are more switched on to buying from and dealing with independents who they regard as having better product knowledge, design skills and passion for kitchens, which many feel is lacking from huge chain outlets.
Nobilia do make a few non branded products not just those for Homebase renamed 'Odina kitchens' or the other noname kitchen Noblessa kitchens, but the important factor for consumers is that the kitchen styles themselves are uniform across the brands with familiar names like Speed, Puia, Senso, Forma and Feel and Highlight, all manufactured in the same Germany factories as regular Nobilia kitchens.
Odina kitchens versus Nobilia Kitchens
The thing with German made kitchens from Nobilia, including those produced for Homebase under the brand Odina kitchens or other names such as Noblessa kitchens, is that they are manufactured as most German made things are, with precision and attention to detail.
But, even though German kitchens are made, ready assembled, they still require fitting, albeit on a far less scale than say a UK made kitchen which is usually built on site at the customers home by the fitter. As you would expect then, the fitter is the key to the kitchen being a success or failure, all other things being equal.
As is the case with many UK kitchen firms, self employed fitters are used and as per the 80 reviews for Homebase Odina kitchens on one review website ReviewCentre with a poor score of 2.3 our of 5, and comments mirrored in the same tone of "nice products, poor fitting and after sales" it would appear that the Nobilia brand is not being best served under the Homebase name Odina kitchens and that perhaps an independent can offer superior designs, better customer service and for likely the sae price?