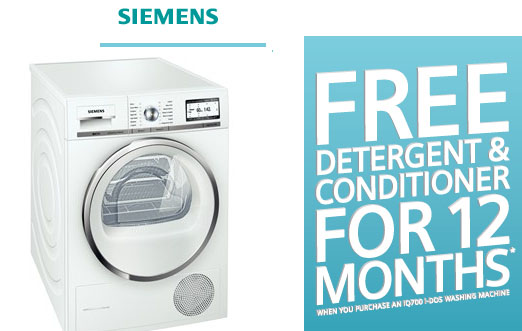 The new iQ 700 selfCleaning Condenserheat pump dryer now allows users to operate a cycle that is 30 minutes shorter when fully loaded – it only needs 17 minutes of drying time for each kilo of laundry. The iQ 700 is up to 35 minutes faster than any of Siemens' previous heat pump dryers to date.
It also dries laundry particularly gently and – with an energy efficiency class A++ – boasts a permanently low level energy use.
The 7kg cotton program has been speeded up to make it just under 120 minutes long. This means 35 minutes' less waiting time. An additional option is the Super 40 fast program for smaller laundry loads, drying just two kilos of laundry in 40 minutes.
The iQ 700 is also extremely gentle on all your textiles. Its softDry drum system minimizes the mechanical stress placed on the laundry, as well as preventing temperature fluctuations. The sensor-controlled autoDry function prevents shrinkage during drying.
To ensure that condensation dryers remain at peak energy efficiency, the condenser needs to be kept as lint-free as possible. This is something that the iQ 700 does automatically. Its self-cleaning condenser rinses itself out several times over the course of each drying cycle, using the water released from the laundry. The iQ 700 will also keep on running as efficiently as it did when it was brand new.
German Kitchens / Schuller Specialist Shane Swift from Lieben der Kuche praises the Siemens brand of home appliances; "Siemens, like Schuller have amazingly high standards when it comes to attention to detail. Its small the things that other brands miss [such as control panels lining up across the range of appliances] that they think of and that's why we try and partner the Siemens appliances with our Schuller kitchens as they both seem to have the same core values of ergonomics and customer focus."
For more information about Siemens home appliances visit the website.