This luxuriously modern and contemporary Metris kitchen by Kitchen Kraft incorporates cutting edge technologies and design inspiration to create a lavish and warm kitchen that is equally at home as a functional kitchen as it is a focal point for entertaining.
With an open plan feel, a tall bank combining storage and appliances, and a wave contoured island, this Textured Wenge with Textured Matt Sand Metris kitchen encompasses the very best elements in modern kitchen design and manufacturing.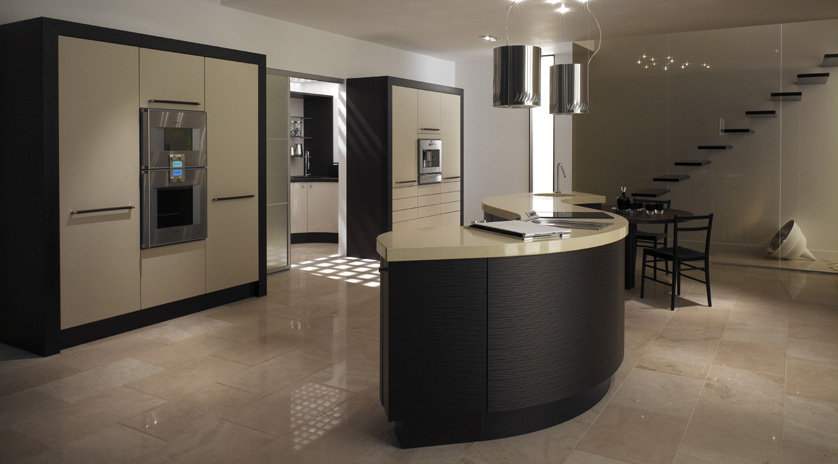 As we can see from the above image, the Textured Wenge and Textured Matt Sand perfectly balance one another, and with the island base units in Wenge continued through to the decorative panels on the tall bank of storage and vice versa with the Textured Matt Sand door fronts on the tall bank continued through to the island work surface, there is a subtle yin and yang feel to this design.
With stainless steel door handles, and the decorative Elica twin hoods atop the domino hobs on the wave island, these subtle finishing touches help shape the overall look, which is assertive without being too bold.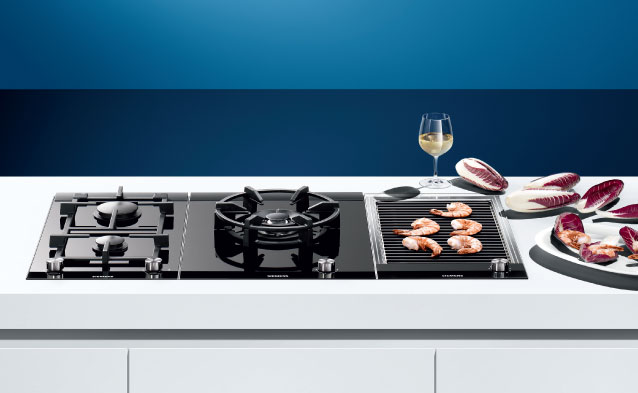 As touched on above, the wave contoured island features three domino hobs which offer chef, a versatile range of cooking options and with Siemens, the domino hob range includes black glass gas hobs, induction and also a Teppan yaki grill.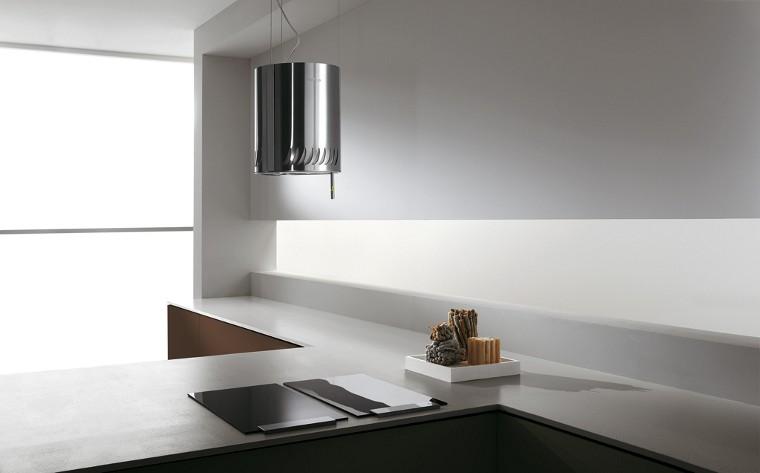 The domino hobs are complemented with twin Elica 'Sienna' decorative, hanging extractors that offer a unique, super-compact, extraction system that not only encases the ventilation unit and filter but lighting and controls all within one simple stainless steel cylinder that has the benefit of looking stunningly beautiful, of which Elica are respected experts.
The above kitchen design by Metris kitchens dealer Kitchen Kraft, (available across the North West) is a great example of European styling and English kitchen manufacturing which is sure to spark interest from lovers of German kitchens and modern English kitchens alike, and Kitchens Kitchens spoke to Kitchen Kraft`s Lindsay Griffiths about the Metris brand, and how it was fairing up with the modern kitchen customer.
"The UK kitchen market is quite polarised in that whilst the English brands account for some two thirds of all furniture sales, the German and Italian imported brands have popularised the slab door and handleless offering in recent years and whilst Metris has answered to that demand for European contemporary styles but offering UK consumers a British made product, the same cannot be said for the German brands own take on the more traditional styles like Shaker. But it is this development of the contemporary Eurocentric style [with the UK market in in mind] that is seeing the Metris brand go from strength to strength."
Kitchen Kraft are a family run business with showrooms in Formby Liverpool, covering Southport, Liverpool, St Helens and Wigan, and a showroom in Northwich which also covers Chester, Warrington and Cheshire.
In addition to Metris kitchens, the Kitchen Kraft team also have a German made kitchen specialist team, and a new product line in Nolte bedrooms.
Call Kitchen Kraft on 0800 018 0009