London Comprex of Havelock Terrace Battersea, and Finchley Road Hampstead have just opened a third London Kitchens showroom in Wigmore Street, London W1G.
The London Comprex group, owned and run by business partners Chris Stocks and Terry Myles, with styles including Forma, Segno, Linea, Sintesi, Cuba, Profilo, Osaka, Essenzam Senta Fe and Vintage offer some stunningly beautiful luxury Italian kitchens.
The Comprex Italian kitchen brand is globally recognised but it is very exclusive and in the UK, other than London Comprex, there are only four other dealers, namely ones in Dublin, Surrey, Morpeth in Northumberland and Wilton in Salisbury.
The new Wigmore Street luxury split-level studio has the very latest Comprex displays in some very exuberant and inspirational lifestyle settings and also includes a limited edition Comprex Italian Filo kitchen display, launched to mark the brand's 30th anniversary. As an indicator of how worthwhile this flagship store is to the Comprex brand London Comprex the first showroom under the global Comprex brand to actually y showcase the Filo display, and it is also the first display to have been manufactured by Comprex.
Wigmore Street studio (Wigmore Street, London is considered the Mecca for kitchens in London) also features a display of the Segno collection, which features veneered 'rovere cinigia' cabinetry and 'segale' silk finished units and one of our favourites here at Kitchens-Kitchens, London Comprex also features the Forma style.
Founded in 1982 in Codognè, Italy, the Comprex range of Vogue, Class and Young kitchen furniture has been created according to a flexible design philosophy to allow clients to select the colours, finishes, and workspaces to suit their lifestyle and budget and London Comprex offers a full range of consulting, design, survey, project management and installation services to its kitchen clients.
Their new Wigmore Street, London W1G is contactable on 0207 935 5815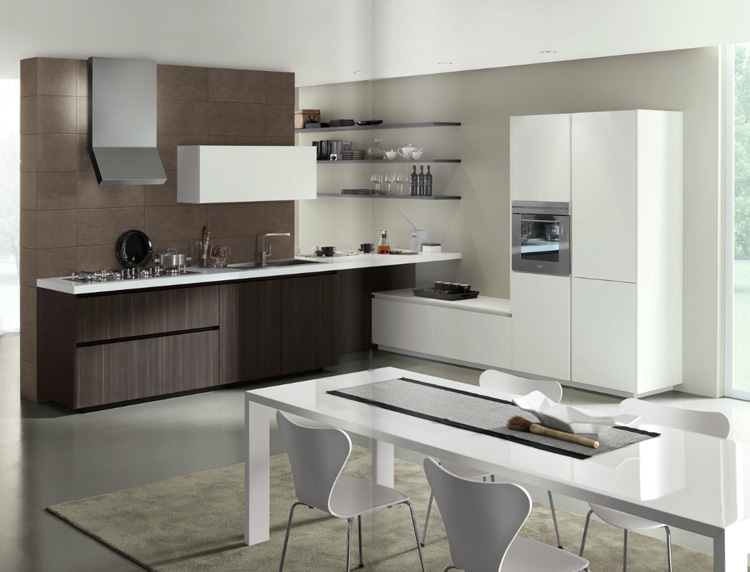 The above Comprex's Forma range features a selection of base and tall units in the eye-catching rovere grigio cross-grain finish partnered with high-gloss lacquered wall units in a 'perla' finish for some stunning modern kitchen solutions…..