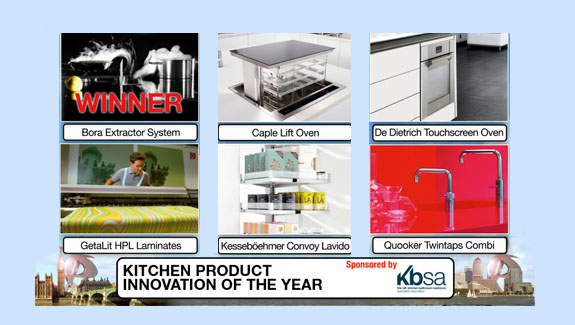 More than 300 independent kitchen, bathroom, bedroom and home interiors retailers nationwide are members of KBSA which is dedicated to upholding industry wide (high) standards of design, supply, installation and customer service throughout the interiors industry and this year they sponsoered a category at the KBB awards for the category of 'Kitchen Product Innovation of the Year'.
And this year the BORA Extractor System, was winner of the KBSA sponsored Kitchen Product Innovation of the Year Award 2013, with the Caple Lift Oven, De Dietrich Touchscreen Oven, Quooker Twintaps, Kesseboehmer Convoy Lavido and GetaLit HPL Laminates runners up.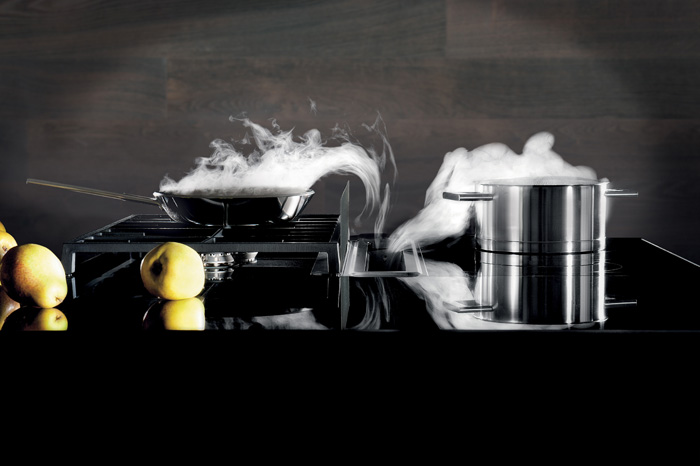 The award is given to specific products that have been developed to actively move forward, the field of product innovation within the kitchen sector and as such the professional cooktop extractor system from Bora, which draws cooking vapours and odours downwards not upwards was considered worthy of being the winning product, which this year was presented by KBSA regional chair for Scotland Paul O'Brien.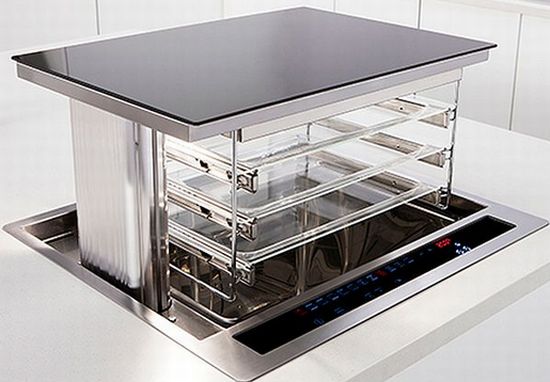 Even when functional, this lift oven takes up considerably less space from your kitchen counter, and looks like a glorious showpiece when fully lifted. From its flush resting position on your worktop space this oven smoothly rises with the press of a touch-control button.
CONVOY Lavido is not just a means of storing products; it ensures they are presented in an attractive and emotionally appealing way. This elegant larder unit is suitable for use in modern kitchens as well as in dining areas or in the workplace, for example. The large number of intelligent details is exactly what you would expect from a product that claims to offer premium technology.
The new kitchen must-have. Quooker: the tap that immediately dispenses boiling water. Tap on the worktop, tank underneath. A 100% Dutch invention taking over the world.  You can choose between a separate boiling water tap with accompanying mixer tap, or the new Quooker Fusion: a single tap for hot, cold and boiling water. Ultra-safe, super-efficient and available in eight tap designs and three finishes
The De Dietrich brand dates back to 1684 and it was the first brand to develop self-cleaning Pyroclean ovens in the 1960's and later De Dietrich introduced the world to the induction hob in the 80's and following on in 2013 at the KBSA sponsored Kitchen Product Innovation of the Year Award 2013 the De Dietrich Premium Collection TFT touchscreen technology, may not have been innovative enough to take away the top prize, as other brands (like Siemens appliances) have similar products, but it certainly is pretty.
All of the products featured in this years awards may not be necessarily ground breaking in terms of innovation, as lets face it, 'groundbreaking' wouldnt be so if it occurred every year but the awards and the advances by all the manufacturers involved does wonders for the KBB industry and should be given the praise they are due.