kbb Birmingham 2014 is arguably a big date in the UK's Kitchen, Bedroom and Bathroom calendar so Kitchens-Kitchens has been rounding up some news and opinion on the recent fixture, which saw some 300 exhibitors demonstrate their products.
KBzine (thekbzine.com) had the following to say about the Kitchen Door Workshop, which launched a new "made in Britain" marketing initiative to highlight that its products are manufactured within the UK, and perfect for people looking at the quick to implement / low cost end of kitchen remodelling spectrum, by changing the their kitchen doors.
KBzine said the marketing from Kitchen Door Workshop was "brave", but you be the judge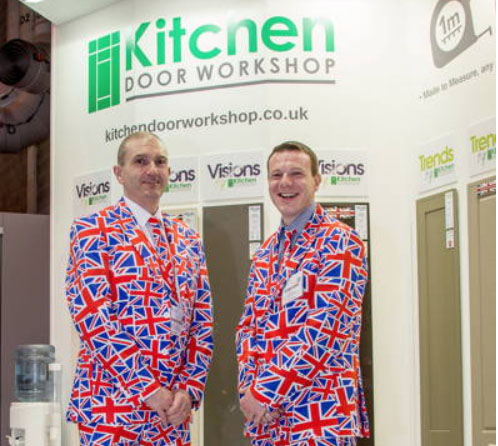 There was a real feast for the eyes with a Union flag emblazoned proudly across the underneath of the stand's canopy, while the staff wore eye-catching suits with a Union Jack flag print on press day. To carry the initiative on after the exhibition, the website and marketing material now also highlight how the company's products are made in the UK.
"Even in these times of economic uncertainty, consumers at all ends of the spectrum are making a conscientious effort to source products made in the UK. We are very pleased and proud to say that we are able to support British manufacturers and the wider economy by sourcing our products within the UK. And, we've not had to compromise. We've been able to find a UK based production partner that has enabled us to provide choice, speed and quality at a great price, and all with a desirable made in the UK stamp."
Stand visitors also learnt that the popular Visions Collection is now available in three new, trendy colours: Chocolate, Mussel and Storm Grey, to go with the established colours of White, Ivory, Cream, Red, Black, Tiepolo, Mira Cosa.
Robert told us that the Visions Collection replacement door has proved popular with Kitchen Door Workshop's customers thanks to its contemporary styling. Its minimalist design with its sleek and uninterrupted surface and exacting corners makes it perfect for modern interiors. "It's hard to say which new colour is my favourite," he said. "The Mussel colour has a brilliant, almost translucent appearance, whilst Storm Grey has a fantastic depth with its charcoal tone. And then there's the Chocolate finish which is lovely with its warm and rich tone. These colours bring the Visions Collection right up to date."
All the Visions doors are executed in a high gloss finish to continue the modern styling throughout and come with a choice of 79 handles.
Also being launched at the show was the Singleton door and drawer option.
Noticing the trend for kitchens that sit somewhere between traditional and modern styles, Singleton has been designed with beautiful yet restrained detailing. The outer routed double line edging and central deep panel with a plain square edge, gives it a classic nod, whilst its precise corners and linear styling give it a modern and fresh appeal. Quite simply, Ticehurst offers a great option for those that to update their kitchen quickly and simply with a traditional but unfussy look.
The high quality Singleton door is available as a replacement door or drawer front and comes in a wide range of sizes. It's also available in numerous finishes including paintable vinyl, silk finishes, textured grain and painted timber effect options.
T: 0845 643 1928
W: www.kitchendoorworkshop.co.uk