The up and coming KBB Birmingham 2-5 March is organised by UBM, the world's second largest pure play event organiser. They organise tradeshows and other live 'in person' events which enable communities to do business, which are a key marketing tool for companies to source new leads, reinforce existing business relationships and bring the market up-to-date with their latest products and services. UBM's web content creator Grahame Morrison has the folowing to say on handle-less kitchens…
There is a marvellous scene in The Devil Wears Prada when Meryl Streep playing an egomaniac fashion magazine editor explains to a timid Anne Hathaway the route a pink belt takes from an exclusive Paris catwalk to the world's High Streets and bargain basements.
In the not quite so high fashion world of kitchen design, trends tend to start at the top with the likes of designer brands such as Poggenpohl and SieMatic (plus quite a few Italian companies), and then trickle down until even a superstore flat pack can offer a version of what was once a guaranteed showstopper.
 If you use advertising as your yardstick for what is selling it is easy to be misled by what is actually going out of the showroom and into consumer's homes. I'd wager a bet that in the UK, the handleless look, for example, is not as popular as it appears to be in relation to the exposure it is given in consumer magazines, many of whom have a very slippery grip on real life in KBB-Land.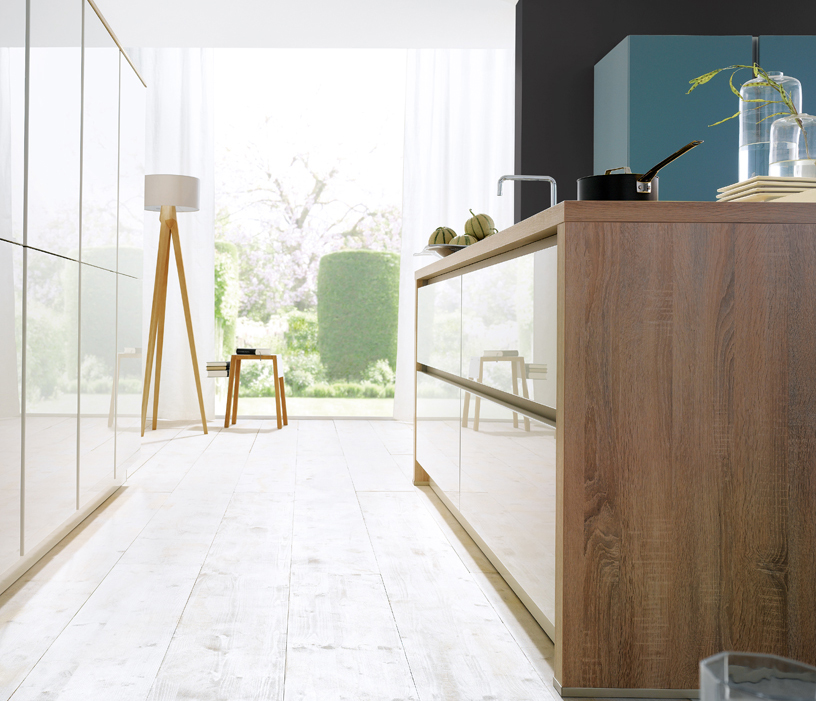 (above: Schuller Gala Brillant White Handle-less)
While everybody has their own formulae for when what was a niche becomes mainstream, I tend to use a combination of very large kitchen companies and very specialised kitchen companies as my own yardstick and this method has recently thrown up the handleless look as the latest design style to go mainstream.
While the term 'niche' may seem something of a stretch as far as the handleless look is concerned, some large scale manufacturers do not have such a beast in their range and even amongst those that do include a handleless range, it is vastly outnumbered by kitchens with knobs on, or 'D's on, or bars on.
That looks like a niche to me but I suspect this is about to change so, back to my formulae. Nolte is one of the largest kitchen manufacturers in Germany. Depending on how you add up stand-alone brands and groups Nolte is either number two or three in terms of cabinet production. Manufacturing on this scale has no place for niches, it has to produce and sell a lot of furniture to keep its huge factory in business.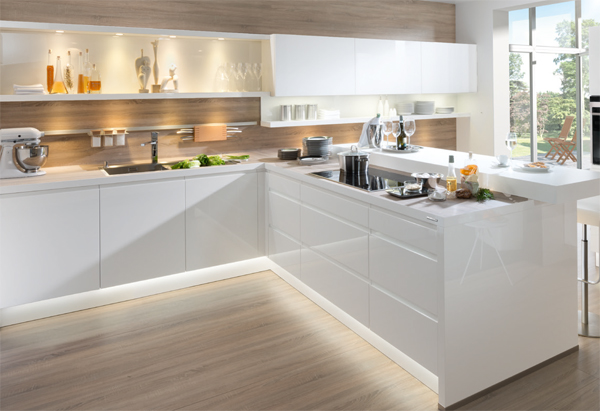 At the other end of the scale, you have the bespoke kitchen company, John Lewis of Hungerford, selling direct to the public via its own showrooms.
Each would appear to have very little in common. Nolte is a world player whereas the vast majority of John Lewis of Hungerford's furniture is for UK consumers. Yet both have recently introduced handleless ranges – why?
In the case of John Lewis of Hungerford (and I suspect Nolte as well), it was because not having a handleless kitchen was costing it business.
That confirms to me that the handleless look is here to stay. In Britain, the Shaker design style (for example) will continue to outsell handleless for quite some time. But as our housing stock gets more modern and smaller, and as the kitchen buying public changes generation, the handleless design style certainly looks like it has convincingly outgrown its niche at last.
I wonder what's next.
(A version of his blog entry is featured on Grahame Morrison's blog, between you and me, where he also comments regularly on life, the universe and kitchen & bathroom matters.)
About Grahame
Currently I am providing website content and market intelligence for UBM Built Environment, organisers of the kbb Birmingham and The May Design Series exhibitions. I am also the Official Blogger for Pro Publishing.
Additionally, I work closely with a number of kitchen and bathroom trade bodies including: The Kitchen & Bathroom Specialists Association (KBSA); The Bathroom Manufacturers Association (BMA), The KItchen, Bedroom & Bathroom National Training Group (KBBNTG); The Federation of Kitchen & Bathroom Designers (FKBD) and The Kitchen & Bathroom Forum.