Its nearly time for that renowned international kitchen furniture exhibition that is, EuroCucina?
Running from 17-22 April and on show concurrently with the International Bathroom Exhibition and FTK Technology For The Kitchen events. EuroCucina 2018 will bring together the top Italian and foreign kitchen furniture manufacturers and the top Italian and foreign bathroom brands in the same venue.
The international kitchen furniture exhibition EuroCucina was created in 1974 and since then has proved to be the leading trade fair in kitchen industry. It is a biennial event, held in Fiera Milano, as part of Salone del Mobile. EuroCucina is a gathering place for high-profile developers, manufacturers and designers from Italy, France, Germany, Austria and other countries, as well as visitors from around the globe. This makes it the ideal platform for presenting prototype products, sharing new concepts and themes in kitchen design, developing partnerships and boosting your brand presence.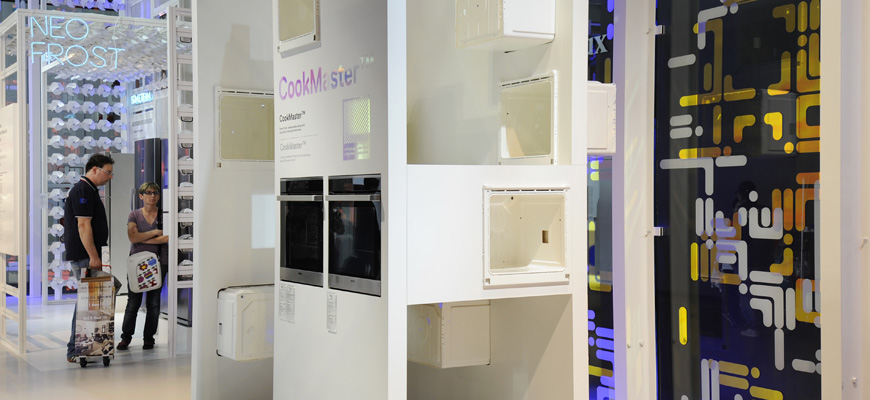 The unique EuroCucina experience is further enhanced by two parallel shows in the frame of Salone del Mobile. The FTK Technology For The Kitchen event, established several years ago to complement EuroCucina, showcases a wide variety of studies and prototypes in the built-in appliance sector. The International Bathroom Exhibition is focused on bathroom furniture and accessories – shower cubicles, saunas, wall and floor coverings and so on.
The key concepts driving the exhibits, showcased by more than 120 companies within an exhibition space measuring around 23,000 m2, are efficiency and evocation.  Kitchens have ceased to be purely functional spaces to become domestic hubs, places for conviviality and socialising. This revival of the domestic hearth makes for an interconnected, multipurpose and professional space, yet one where emotions never fail to run high.
The more than 300,000 expected visitors will be greeted with a vast array of top quality goods. All the exhibits at EuroCucina embody contemporary design, technological innovation, next generation performance, energy efficiency and ease of use. New shapes, colours and materials will help mark out the kitchen as a place for conviviality and interaction with the outside world.
As always, FTK – Technology For the Kitchen will provide an overview of the state of the art technology of built-in domestic appliances, with models, prototypes and concepts conceived by companies that set tremendous store by research.