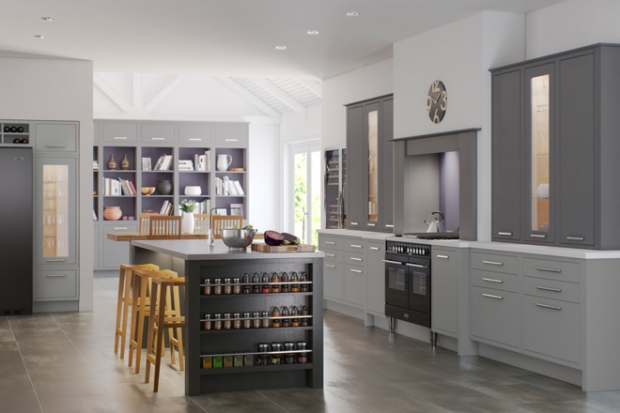 The Award winning English Revival range from Mereway presents a collection of bespoke, hand painted, hand made, in-frame kitchens created from solid wood. The collection is attributed to award winning designers; Young and Norgate, renowned for creating elegant, timeless contemporary furniture.
The new contemporary slab door range is on trend with the growing consumer preference for in-frame. The flat slab door with subtle horizontal grain (enhanced by the removal of cross rails) offers a fresh, new approach, whilst the delicate beading within the solid timber frame presents a modern twist to in-frame kitchen design.
The new range features iconic furniture pieces including beautiful tall glazed units and bookshelves, American style fridge freezer housing, spice racks and slim shelves to display and store. The styling of these units feature a gentle upward sweeping curve and stainless steel bars for a contemporary look, bringing together practicality and aesthetics.
The introduction of painted interiors on cabinets, open end units and open shelving is another new concept - also available for the current in-frame shaker collection.
A different approach to colour allows the consumer to select from a collection of 25 colours that reflect their chosen style. The new 'colour ties' concept suggests 4 popular complimentary palettes using harmonious colours. Earth tones, greens, greys and blues are the core colour choices, with tonal shades to perfectly complement each other.
Graham Jones, Sales and Marketing Director for Mereway Kitchens comments "We've introduced an exciting new way of planning and designing with colour, bringing a beautiful new palette to our kitchen furniture and being gently guided, so clients can rest assured they've made the right choices to create the look they want."
British Made Traditional joinery and carpentry techniques are what Mereway Kitchens are renowned for, appealing to the native audience.
Graham continues "The UK consumer is certainly savvier in their search for a unique, individual statement kitchen that isn't mass produced, but built here by British manufacturers like Mereway, and with real heart and soul. Consumers are more driven to buy British today than ever before, as they're looking for quality and innovative home-grown design."
Mereway Kitchens offer short lead times, outstanding quality and a 10 year guarantee on all cabinets.